An enthusiastic crowd gathered this past Saturday to witness the unveiling of "The Greeter," sculptor John Coleman's gift to Green-Wood in honor of George Catlin, the father of art of the American West.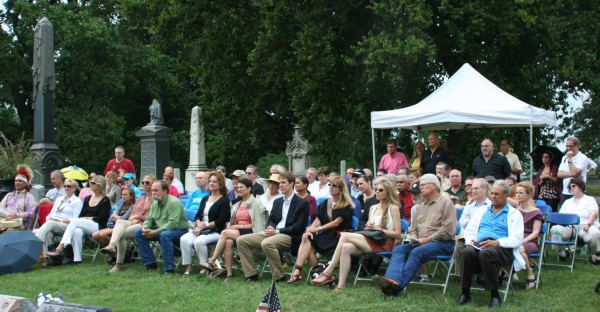 For background on this event, go here. And you may read another entry about Catlin that has appeared in this blog here.
Sculptor John Coleman is a huge Catlin fan. And, when he found out that Catlin, who died in 1872, had not gotten a grave marker until 1961, and that it was only a very simple gravestone in an out-of-the-way place at that, he promised to rectify that wrong. John donated his bronze sculpture, "The Greeter," to be placed near Catlin's grave, to honor him.
Green-Wood's president, Richard J. Moylan, told the audience how he had met sculptor John Coleman and had arranged for Coleman donation. Dr. Linda Ferber, vice president and senior art historian at The New-York Historical Society, spoke about George Catlin, the artist. Gwen Pier, executive director of the National Sculpture Society, talked about Green-Wood as a sculpture garden and introduced sculptor John Coleman.
Donna Couteau, of the Sac and Fox tribes, and her husband Joe Cross, of the Caddo and Potawatomi tribes, movingly described Catlin's importance to Native Americans–how he captured images of their ancestors (Donna is a descendant of Black Hawk, whom Catlin painted; Joe spoke of a Catlin's painting of a Caddo buffalo hunt) and wrote extensively about their customs.
Here is "The Greeter," Chief Black Moccasin, as he was being unveiled by Green-Wood Cemetery President Richard J. Moylan (at left) and sculptor John Coleman (at right):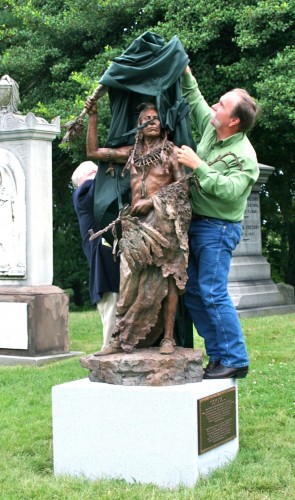 And here is a detail of "The Greeter:"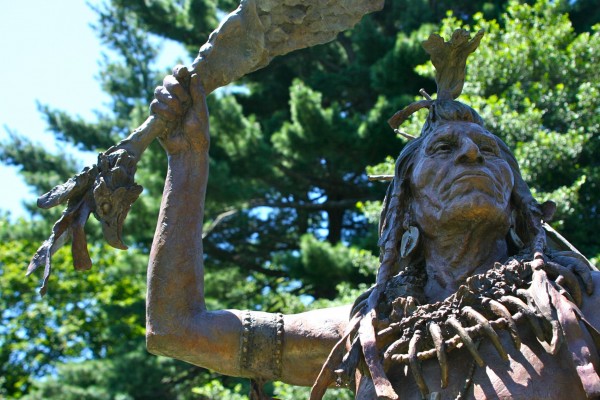 Three bronze plaques are attached to the granite base upon which "The Greeter" stands. One describes "The Greeter" as a historical figure: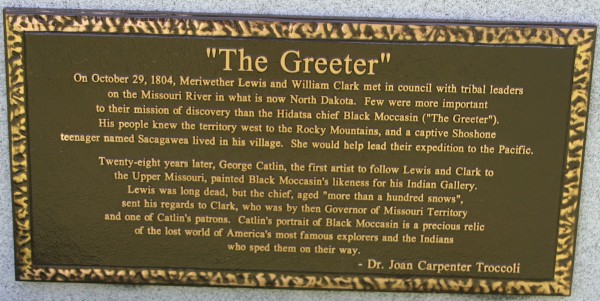 And, here is the plaque about sculptor John Coleman and his thoughts on this piece: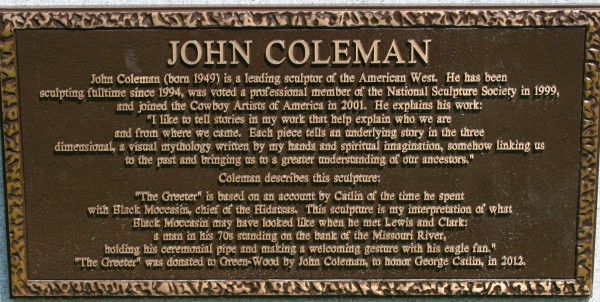 And the third tells the visitor George Catlin's story: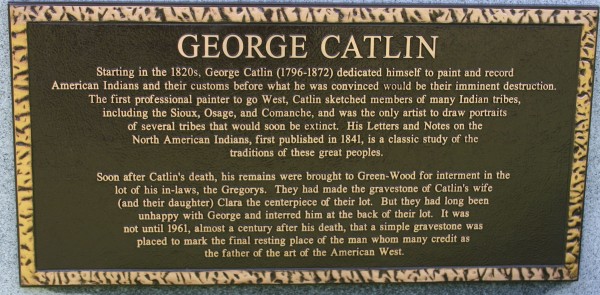 Here is "The Greeter," after its unveiling, with Donna Couteau and Joe Cross.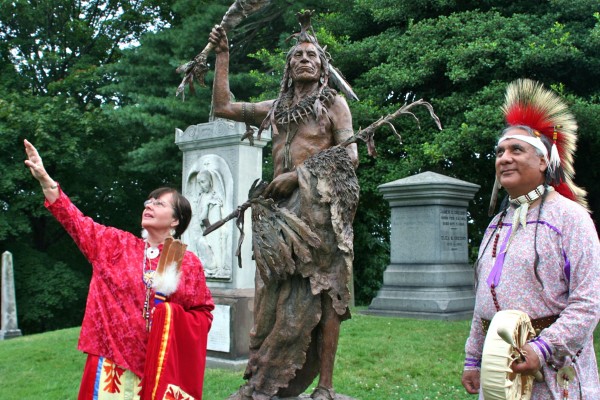 After the unveiling, Joe Cross led a celebratory dance in an open spot near Catlin's grave.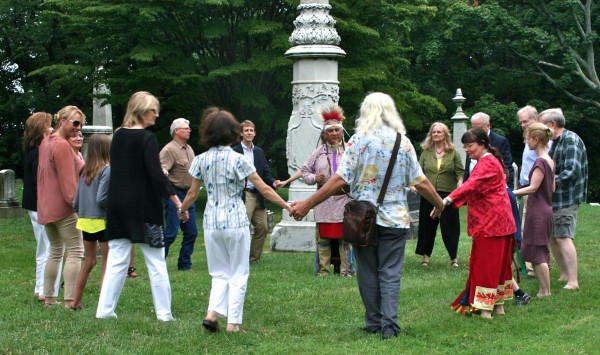 After the unveiling, a birthday party was held in Green-Wood's Historic Chapel. July 26 was painter George Catlin's birthday; July 27 was sculptor John Coleman's.