Green-Wood is many things: sculpture garden, historic park, bird-watcher's paradise, suburb for the dead. But it is also a great arboretum, with one of New York City's great tree collections. Our 478 acres are home to almost 7,000 trees. An expert from the Brooklyn Botanic Garden, after touring the grounds recently, told us that Green-Wood has the BEST collection of mature trees in New York City.
And, we recently heard from Benjamin (Benjy) Swett. He is a New York City-based photographer who has written several books, including Great Trees of New York City: A Guide, published in 2000. Now Benjy is working on the next edition of that guide, to be published on April 26, 2013 (Arbor Day!) and has contacted Green-Wood to update his information about two of our oldest trees: a Sassafras and a Camperdown Elm.
Benjy has concluded that Green-Wood has the oldest Sassafras in New York City. He believes it may even date from before Green-Wood was established in 1838. Now that's an old tree! The Sassafras actually appears as two trees within a few feet of each other–possibly survivors of what may once have been a larger colony.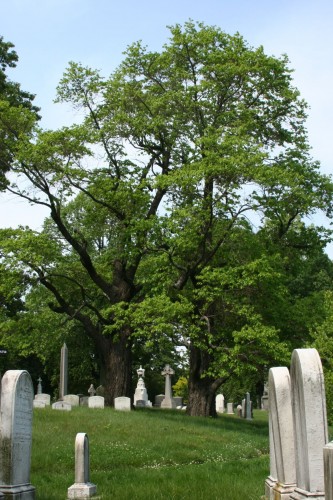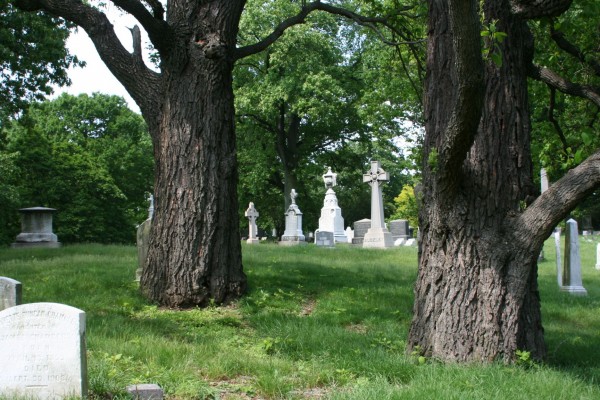 If you have ever seen a Sassafras, it is likely that you know them as rather small saplings that grow along highways and turn a bright red in the fall. And, if you've ever been up-close-and-personal with a Sassafras, you likely know that it smells like root beer. Indeed, Sassafras was used to give root beer its flavor.
This Sassafras at Green-Wood has been undisturbed for generations and has done very well for itself. If you would like to pay it a visit, it is just west of Cedar Dell and the Dutch Reformed Church's circle, in section 54, between Forest and Locust Avenues.
Benjy also has identified the Camperdown Elm right next to the Burham Lot (the large lot surrounded by a Quincy granite curb) up near Battle Hill, in section 123, where Battle, Mulberry, and Fern Avenues intersect, as the second largest such tree in New York City–second only to one in Prospect Park. Here's our specimen: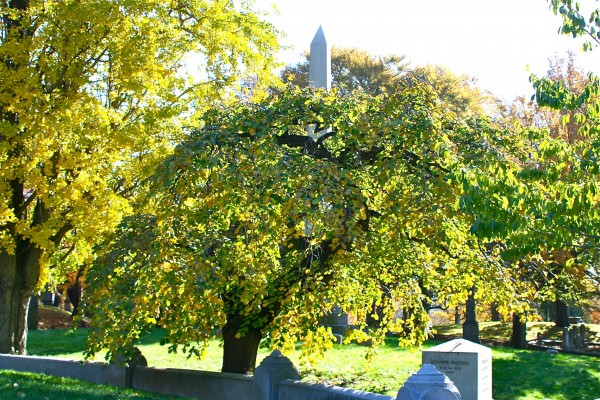 I thought that another Camperdown Elm at Green-Wood might be larger than this one. So, with instructions from Benjy to measure its girth at 4 feet off the ground, I went out to check. It turns out that the Camperdown Elm above is just slightly larger than the one I was thinking of–the one above has a radius of 8 feet 4 inches, while the other's radius is 7 feet 8 inches. Close but no cigar!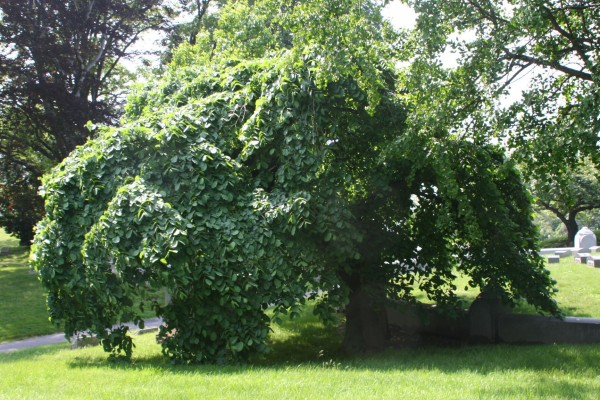 This Camperdown Elm is on Pine Avenue between Central and Vista Avenues–in section 79. It is a great example–why not come visit it and pay your respects?
A note on the size of these trees, as it relates to their age: Benjy points out that "there is really no way of knowing how old any tree is without coring it and the chances are that trees in Green-Wood are bigger than they would be in the wild because they grow in such great conditions. I suspect that this is especially the case with the Sassafras."
Thanks to Benjy Swett for his help with this blog post. And good luck to him with his forthcoming book on New York City's great trees!