It has been less than a week since about 50 gravestones at Green-Wood were vandalized.
I was out on the grounds Friday morning. The damage is even more aggravating when examined closely. For instance, I knew that an small angel had had its head snapped off after being pushed off its base and crashing to the ground. But, on closer examination, I discovered that that angel was a memorial to Dwight Talmage Abbey, a five-year-old boy who died in 1904. His parents put this monument up as a memorial to their little angel. And now it lies smashed in pieces.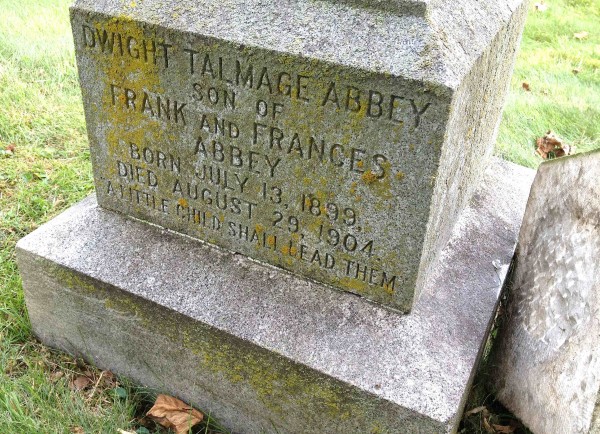 Another monument that was vandalized also struck home with me. It is the monument to Horace Hart, a Civil War veteran. I discovered Horace's story several years ago; you can find that blog post from 2009 here. Horace served in the 43rd New York Infantry. As a teenager, he fought at Gettysburg, exchanging fire on July 3, 1863 with Confederates. His company was commanded by Captain William Gilfillan, who was killed there that day. When I came out to take a photograph of Captain Gilfillan's grave for the man I had met who owns the land upon which Gilfillan was shot and died, I spotted Horace Hart's nearby grave and a symbol on it indicating that he was a Civil War veteran. Researching Horace, I discovered that he had wanted to be interred just feet away from his captain who led him into battle. The vandals knocked the top of his granite monument off–the part that proudly bears his Grand Army of the Republic ribbon–a statement of his loyal service to his country.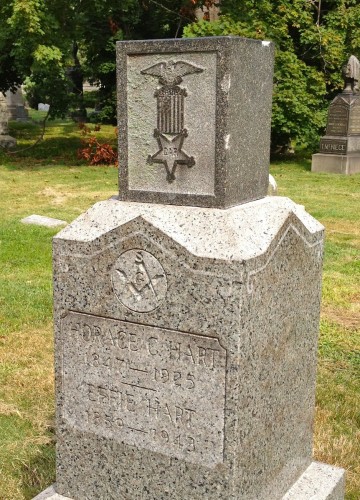 The vandal or vandals seem to have targeted crosses. So, this cross, and another right next to it, were smashed into pieces.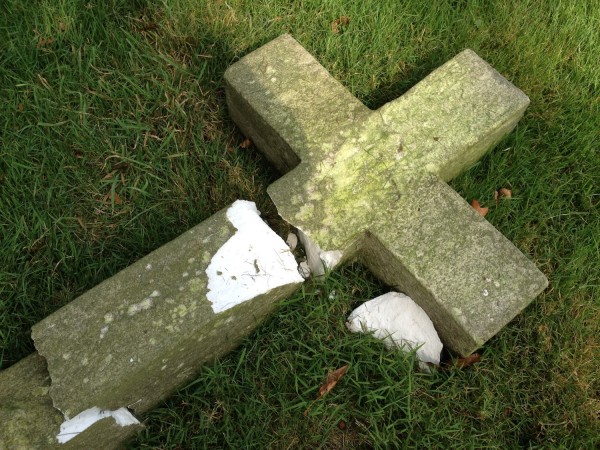 And this cross, though toppled and now replaced in position, largely intact, suffered some scratches and a large chip at its upper right.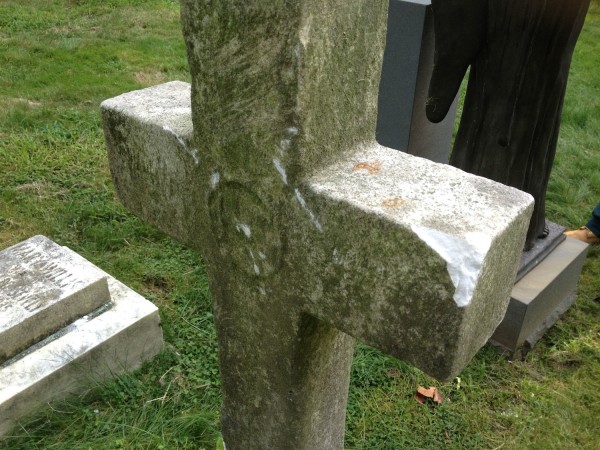 And the inscription on this cross seems not to have deterred the vandal or vandals: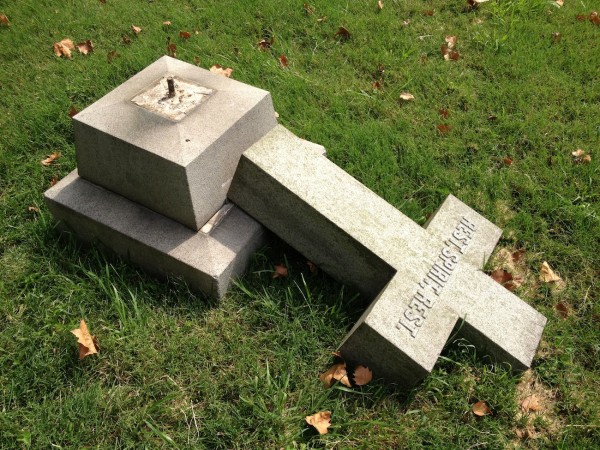 But, there is some good news out of all this. Many of the monuments that were toppled, but remained largely intact, suffering some chipping or little damage, have been put back in their places by Green-Wood's dedicated restoration workers. When I was out on the grounds Friday morning, I saw a Green-Wood restoration crew at work, epoxying a shrouded urn back in place. They then moved on to another monument that the vandal or vandals had attacked. The restoration crew carefully glued the pieces of that monument back in place.
Of course, there are quite a few monuments that still lie in pieces, and will require more extensive work. Fortunately, Green-Wood has a cutting-edge restoration program in place that will be able to do this work.
So, it is just a matter of time, and skill, and money, until these monuments are repaired and placed back out as memorials to those who lie below them in Green-Wood's ground.
Great thanks to everyone who has sent us words of sympathy and encouragement. And thanks to all of you who have made donations to help pay for these repairs. If you would like to support our efforts to restore all of these damaged memorials, please click here. We very much appreciate your support.