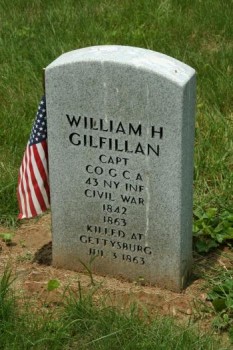 During the first weekend of June, I headed off to the Civil War Preservation Trust's annual convention in Gettysburg, Pennsylvania. A great organization–saving battlefield land, hallowed ground, holding its yearly event in the mecca of Civil War towns.
Brought along my t-shirt–the one I had made a few years ago when I led a trip down to Gettysburg for our Civil War Project volunteers, as a thank you to them for their great dedication. The t-shirt list the names, ranks, and regiments of the 20 or so men who were killed at Gettysburg and are interred at Green-Wood. Thought it might be a conversation starter. Little did I know.
Well, it was rainy and cool for the first few days in Gettysburg, so I didn't get to wear my t-shirt. But the third day was supposed to be sunny and warmer, so I put it on, under a sweatshirt. And we headed out on the tour, led by the legendary Ed Bearss, historian emeritus of the National Parks Service. Ed brought along a friend, a man who owns land in Gettysburg. The friend, a gentleman in his mid-eighties, was wonderful. He really loved the history of his property, where a skirmish had occurred on July 3, 1863. After showing us his cows and several nearby monuments, he asked us to put our cameras away–he was going to show us something that he didn't want on the Internet–because, if it was, it would be destroyed.
And so Ed's friend took us down a path to a granite boulder, on which several shards of granite had been placed in a rough design. He explained that, at the time of the Civil War, this land had been owned by the Baker family. And there were two Baker boys who, when the veterans of this skirmish had returned after the War, would go out with the veterans, through the pastures and trees, to hear their first-hand accounts of the history that had happened there. Well, as the Baker Boys explained to Ed's friend when he was a young boy, veterans of the 43rd New York Volunteer Infantry had come back one day to visit the ground where they had fought and had shown them that boulder where we stood. It was next to this boulder, Ed's friend explained, that their captain, William Gillfillan, had been shot in the stomach. It was against this boulder that he was propped us as he lay dying. And it was on this boulder that they had placed the shards of granite as their impromptu monument to their fallen comrade.
As Ed's friend told this story, I began to get chills. I started to remove my sweatshirt, knowing that the t-shirt I was wearing, the one with the names of the men who had fallen at Gettysburg and were interred at Green-wood, had "William Gilfillan, 43rd NY" on it. So, when the story was finished, and it was asked if there were any questions, I spoke up, telling everyone that I was the historian at Brooklyn's Green-Wood Cemetery, that we were involved in a Civil War Project to identify our Civil War veterans, and that Captain Gilfillan was interred at Green-Wood. Ed's friend was very excited. As he explained, he had wondered for years where the captains remains rested. So, I promised to get a photograph for him of Gilfillan's final resting place.
A few weeks ago I went out onto the Green-Wood grounds and got that photograph. It turns out that Gilfillan had been in an unmarked grave until our Civil War Project, with the help of cemetery staff, got his grave marked. Here's the photograph of his gravestone:
And, as I began to walk back to the nearby road after taking this photograph, just feet away from Captain Gilfillan's grave I noticed a rather large monument to a Horace Hart with a G.A.R. (Grand Army of the Republic, the fraternal organization of Civil War veterans that became a powerful political force after the Civil War) ribbon carved into the granite. I was happy to have spotted this–this meant there was another Civil War veteran right there. But it soon became apparent that this was not just any Civil War veteran. After researching the matter I discovered that Horace Hart had served in the 43rd New York, Company G. Yes, the very same company that was commanded by Captain William Gilfillan. I guess Horace wanted to spend eternity near his captain.