This past Saturday the General Meade Society of Philadelphia ("Preserving the Memory of the Victor of Gettysburg") ventured up to Green-Wood for a Civil War tour. Here's their website.  And here's the group:
During the tour, I talked about Green-Wood's Civil War Project, now in its 10th year. Since its inception, hundreds of volunteers have identified 5,000 Civil War veterans at Green-Wood (as an example of the scope of this project, early on volunteers checked the names of 172,000 men who enlisted in New York City or Brooklyn against the cemetery's online database for matches), have written biographies for each of them (and those biographies have been re-checked and supplemented by other volunteers expert in genealogical research), and have applied for more than 2,000 Veterans Administration gravestones for men in unmarked graves.  I showed them some of those gravestones, about to be installed. We visited New York City's Civil War Soldiers Monument (restored in 2002) and the Civil War Soldiers' Lot, where more than 100 Union men, many of whom died during the Civil War, were interred free of charge). We also paid our respects to Confederate General Nathaniel Harrison Harris, Union Major General Henry Halleck, Halleck's chief of staff General George Washington Cullum, and General Schuyler Hamilton (a veteran of the Mexican War whose injury forced his early retirement from service in the Civil War).
As we proceeded through the cemetery, I pointed out the grave of General James Allen Hardie. Here's Hardie: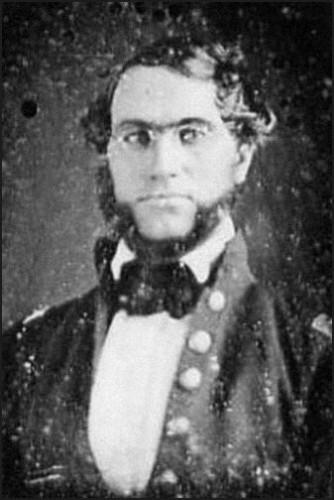 Here's the entry on Hardie in our Ciivl War Project biographical dictionary:
HARDIE, JAMES ALLEN (1823-1876). Major general and brigadier general by brevet; colonel and inspector general, 5th United States Artillery. Born in New York City, he attended the Western Collegiate Institute at Pittsburgh, Pennsylvania, and the Poughkeepsie Collegiate School in New York. An appointee of President Martin Van Buren, Hardie graduated from the United States Military Academy in 1843, 11th in his class, and entered the artillery. He taught geography, ethics, and history at West Point from 1844 to 1846, then commanded a New York Regiment of Volunteers in the Mexican War. After converting to Catholicism, he helped during that war to raise funds to build the first cathedral in San Francisco. Hardie served in garrison, frontier, and Indian service until the onset of the Civil War at which time he was adjutant general of the Department of Oregon. On May 14, 1861, he transferred to the 5th United States Artillery and served as lieutenant colonel and aide-de-camp on the staff of General McClellan accompanying him in the spring of 1862 to the Virginia peninsula as adjutant general of the Army of the Potomac and then to Maryland at the Battle of Sharpsburg (Antietam). He subsequently joined the staff of General Burnside where he assisted at the Battle of Fredericksburg, Virginia. He was appointed brigadier general of volunteers on November 29, 1862, but his name was not submitted to the Senate for confirmation and that appointment was revoked on January 22, 1863. Appointed to major and assistant adjutant general in the Regular Army on February 19, 1863, he served as Assistant Secretary of the War Department and was appointed colonel and inspector general on March 24, 1864. It was Hardie who carried the secret orders at the end of June 1863, on the eve of the Battle of Gettysburg, Pennsylvania, which replaced Joseph Hooker with George Meade as Commander of the Army of the Potomac. He then served as assistant secretary to Secretary of the Army Edwin M. Stanton, and as judge advocate of the Army of the Potomac. On March 13, 1865, he was brevetted brigadier general of the United States Army for distinguished and faithful service during the War and brevetted major general for faithful, meritorious, and distinguished service in the Inspector General's Department. In 1866, he was the commissioner who audited military claims of Kansas, Montana, Dakota, California and Oregon. He then was at headquarters of the Army from August 15, 1867, through May 17, 1869, inspector-general of the Division of the Missouri until October 5, 1872, at headquarters of the Department of the Gulf until January 14, 1873, in Baltimore until February 1873, and then on inspection duty. Hardie died while on active duty in the Army on December 14, 1876, in Washington, D. C. George W. Cullum in his tome, Biographical Register of the Officers and Graduates of the United States Military Academy, said of Hardie, "His thirty-three years in the Army were spent almost entirely in staff duties, although he saw some combat in the Union Army during the War between the States." Originally interred at Mount Olivet Cemetery, he was reinterred at Green-Wood on March 17, 1877. Section 68, lot 2175.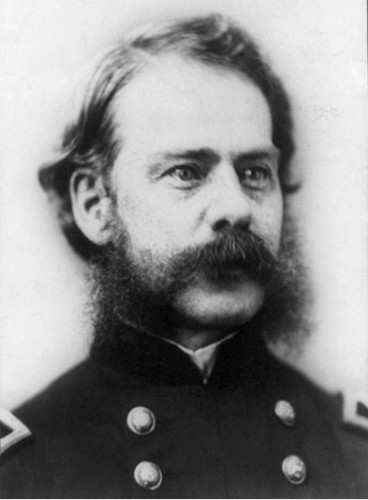 Here's what makes Hardie a fascinating footnote to history: as Confederate General Robert E. Lee pushed his Army of Northern Virginia up towards Pennsylvania, to bring the War to the North, President Abraham Lincoln decided he had had enough with General Joe Hooker, who commanded the Army of the Potomac. Hooker would be relieved of command; General George Meade, a native of Pennsylvania, would be placed in command, and would defend his home territory. Now, it's not like Lincoln called a press conference to announce that Hooker was out and Meade was in. Nor did some Washington insider tweet that that was the case. Rather, Hardie, in his capacity as Assistant Secretary of the War Department, carried Lincoln's secret order to Meade. Meade, of course, took command and made his stand at Gettysburg. During July 1, 2, and 3 of 1863, his army held its lines against repeated attacks; the Confederates, thwarted, retreated south, and General Meade was a hero. In a dark time for the Union, with Confederates marching and riding throug Pennsylvania, Meade rose to the challenge, and the Civil War turned.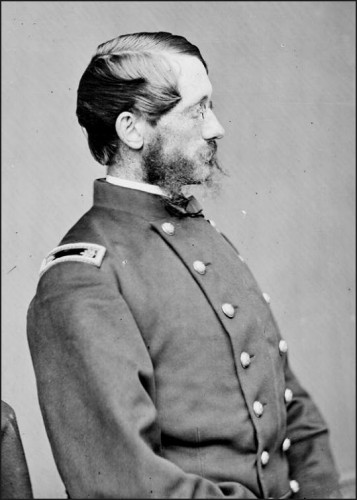 Here's is the account, in Memoir of James Allen Hardie, Inspector-General of the United States Army, of Hardie's role in the historic transfer, on the eve of battle, of the command of the Army of the Potomac:
In the latter part of June 1863, while the Army of the Potomac was endeavoring by forced marches to intercept General Lee in his advance into Pennsylvania and General Hooker was hoping by a successful issue to the impending battle to retrieve the reputation he had lost at Chancellorsville, the authorities at Washington determined to supersede him by General Meade, commander of one of his corps . . . . Secretary (of War Edwin) Stanton who seemed to have a special anxiety as to the manner in which these orders should be communicated and executed called Colonel Hardie into the room where he was closeted with President Lincoln and General Hallcck, bade him read carefully the orders and memorize their substance, and then directed him to leave at once by rail for Frederick City at which point the Federal army had arrived on its northward march and finding General Meade without communicating his mission to anybody accompany that officer to the headquarters of General Hooker and see the command transferred to him both formally and actually. . . . Should the railway be cut by the raiding Confederate cavalry, he was directed to avail himself of whatever other opportunity there was of getting to Frederick City, and if necessary to destroy the orders to prevent their coming into the hands of the enemy, he was still, if he could reach Frederick City, to communicate them verbally and insist upon their execution as both his person and his position were well known to the two officers concerned. Colonel Hardie reached Frederick City in safety, though not without several alarms, and found the town and the roads leading to the camps beyond full of carousing soldiery. Ascertaining that General Meade's headquarters were several miles out of town, he obtained a conveyance with great difficulty, it being long past midnight, and after a slow and troublesome progress past the throng of soldiers returning to their camps, reached General Meade's headquarters and penetrated to his tent without disclosing his name, rank or business. General Meade awakened from the brief rest he was taking after the labors of the day and night by Colonel Hardie's colloquy with the sentinel in front of the tent and recognizing his visitor, expressed astonishment at seeing him there and, when informed that it was business from Washington that brought him, was so little prepared for the nature of that business, that his comments showed his fears that calumny and intrigue had been busy with him as with so many other officers of rank in that army. When he had read the order of the President and realized its import he soon made his visitor aware that nothing but his sense of implicit obedience to any lawful command would induce him to obey it, and he shrunk, as did Colonel Hardie himself, from the preordained manner of executing it by going secretly to the headquarters of General Hooker and demanding possession of the chief command instead of permitting General Hooker to be first made aware of the state of affairs so that he might send for his successor and invest him with it in his own time and manner. . . . (A)nd certainly some thoughtfulness was shown in sending Colonel Hardie to supervise so delicate a transaction, he being on terms of intimacy with both officers and known to them both as sensitive and thoughtful in his dealings with his fellow men to the last degree.
If you would like to support our Civil War Project, please do so by purchasing the latest edition of our Biographical Dictionary on CD (the third edition, which has 4,500 biographies and approximately 500 images). It is only $10 and all proceeds go to support publication of our next edition. Just click here to make your purchase. Thanks!