On October 13 we unveiled "The Angel of Music," a bronze sculpture, at the grave of Louis Moreau Gottschalk (, America's first international musical superstar. The blog post about that event, "Welcome, Angel of Music," is here.
Last week, on NPR's "On Point," Tom Ashbrook devoted his show to Gottschalk. His guests were Richard Rosenberg, conductor and artistic director for the Union Symphony Orchestra in Monroe, North Carolina and the National Music Festival in Chestertown, Maryland, and John Davis, pianist and musical historian, who was the featured performer at Gottschalk's grave for our unveiling of "The Angel of Music."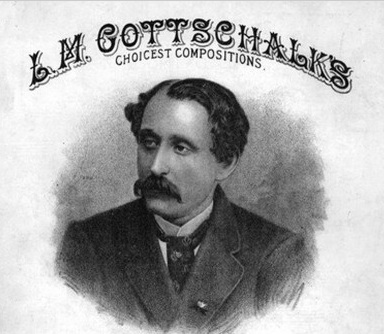 Here's how Tom Ashbrook opened the show:
From WBUR Boston. I'm Tom Ashbrook and this is "On Point." He was a piano prodigy, an American original, a Civil War era pop star of the highest sort. Ladies loved him, President Lincoln lined up to listen. But say his name today and you might get a puzzled look. Louis Moreau Gottscalk:  recognize him? Maybe not. But he had a big life and a big American story. Creole composer, world music pioneer, the forgotten godfather of Ragtime, from a boyhood in New Orleans. This hour, "On Point" listening to the deep Americana of composer Louis Moreau Gottschalk. You can join the conversation. Do you even know the name, do you hear what Lincoln heard in Gottschalk? What do you think?
You may listen to this very entertaining show, "A Pop Star In The Age Of Lincoln," including John Davis playing Gottschalk live on his piano, click here.