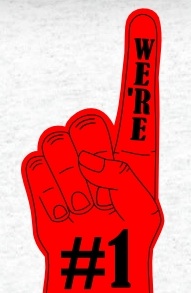 Thinking of exploring Brooklyn? Wondering what would be your best choice of a place to go? Well, how about The Green-Wood Cemetery?
Green-Wood's fans have made it the NUMBER ONE attraction in all of Brooklyn on Trip Advisor! Go here to read what some of our fans love about this incredible place.
Thanks to all of you Green-Wood fans out there who made it numero uno.
UPDATE: I just came across this post on Trip Advisor. It was sent from across the Atlantic and is a real doozie. I must say, the thought that my Moonlight Tour would be the highlight of anyone's HONEYMOON had never crossed my mind. Here's hoping that the marriage is even better than the honeymoon:
Huddersfield, United Kingdom
Feb 18, 2011
It was actually 2009 when we visited Green Wood. My Wife & I went to NYC for our honeymoon and, when planning our trip found the cemetery's torch-light tour which sounded right up our street!
Our evening there turned out to be a highlight of our honeymoon! The staff and volunteers were brilliant and the light-hearted but fascinating history we were told about was fascinating. And all of this whilst being serenaded by two musicians and their accordions! The opportunity to visit the catacombs was also great fun and a chance to see a side of history not regularly available.
If I was lucky enough to live locally, I would be there taking part and making the most of all the events the team put on.
Our evening was the exact opposite from being grim dark, odd or foreboding.
This is a must visit when in New York. You won't be disappointed!!