Well, this is a bit of a strange one.
Sue Ramsey is a wonderful researcher who is one of our very best Civil War Project Volunteers. About a year ago, Sue offered to do some follow-up research on our Civil War biographical dictionary. She wanted to see if she might be able to solve some of the mysteries we had found ("soldier history unknown") and also try to find additional information about some of our men. So, I sent her the first of our lists, A-B, and she went to work.
When she got to Binks, Alexander, on the list, and searched the Internet, she found an entry on a website devoted to woodworking about Alexander Binks. An entry on that website reported that a Civil War cartridge box plate, apparently inscribed by Binks, had been dug out of the ground.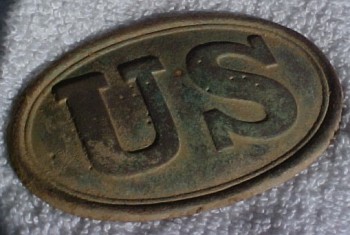 I checked the website and discovered that I had to register to post; I did so and left a message that I would like to hear from the Binks poster.
But I heard nothing for months. Then, in April, I got a birthday greeting from a woodworking website. That puzzled me for a moment, but that I realized this was that same woodworking website on which I had register; I had given it my birthday when I did so.
However, I still hadn't heard from the Binks poster. Well, a few weeks ago, that changed. I finally got an e-mail from Paul Williams, and here's how he described his find:
This U.S. cartridge box plate was recovered by metal detectorist Paul Williams near Falmouth, Virginia in 2002. The location was once a sprawling Federal winter camp. During the Civil War it was occupied by tens of thousands of Union States troops following the Battle of Fredericksburg…the area is now covered in condos, asphalt and shopping plazas. Upon cleaning the artifact, it was found to have been crudely inscribed on the reverse "A. Binks 68 PV".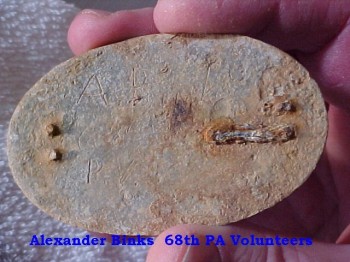 Subsequent research revealed that Private Alexander Binks of Philadelphia was a member of Company A of the 68th Pennsylvania Volunteer Infantry. He enlisted in April of 1862 and was 22 years old. A butcher by trade, he had immigrated from Birmingham, England. Binks and the 68th fought at Fredericksburg and Chancellorsville, and took part in the infamous "Mud March." Private Binks likely discarded his infantryman's cartridge box at Falmouth in April of 1863 when, records show, he left the 68th and was attached to the 4th New York Independent artillery battery. He served with that unit at Gettysburg where the battery was over run by Confederate forces and lost several of their cannon. Binks survived the war and was married to Harriet Gaul. They lived in Brooklyn until his death in 1897. His widow applied for his military pension in 1921, but was denied because Binks had never completed his contract with the 68th and thus had not received an honorable discharge. Binks is now a permanent resident of Green-Wood Cemetery.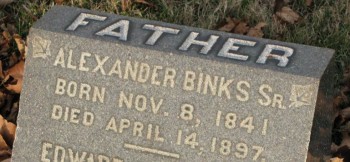 And, even better, when I contacted Paul, and asked if we might borrow his Binks treasure, he immediately agreed and sent it off to me. It will be proudly displayed, in memory of Private Alexander Binks, in our exhibition, "Honoring Their Sacrifice," in our Historic Chapel, running from May 28 through June 12. I am very happy to have it.
Thanks to Paul Williams for the photographs of the cartridge box plate. And thanks to Terry Svensen for the gravestone photograph.
Update: Paul asked to me take a photograph of Alexander Binks's grave, with the cartridge box plate and the other items he had dug at Falmouth on it. As I was setting the photograph up, this occurred to me: do you think Alexander Binks, in his wildest dreams, might have imagined when he carved into the back of that cartridge box plate in 1862 that, 149 years later, that plate would be placed on his grave? Here's the photograph.