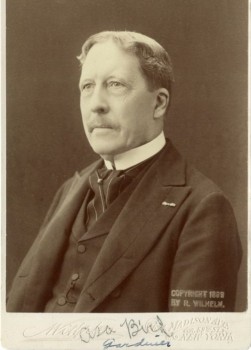 Asa Bird Gardiner (also spelled Gardner) (1840-1919) led a very interesting life. A native New Yorker, he enlisted there very early in the Civil War as a first lieutenant and was commissioned into the 31st New York Infantry. During that tour of duty, Colonel Calvin E. Pratt, commanding officer of the 31st, wrote from Alexandria, Virginia, on July 22, 1861, commending Gardiner for his "coolness and judgment" the previous day at the Battle of First Bull Run, Virginia. He re-enlisted on May 31, 1862, was commissioned into the 22nd New York Infantry as a captain and served for three months. He returned to the same regiment and company in 1863, serving for 30 days. During that service, he was wounded on July 1, 1863, at Carlisle, Pennsylvania, the same day that the nearby Battle of Gettysburg began. Late in the War, still disabled, he was commissioned a first lieutenant and joined the 7th Veteran Reserve Corps where he was brevetted to captain on March 13, 1865, "for gallant and meritorious services during the War."
After mustering out in August 1866, he returned to serve his country in the United States Army as a judge advocate from 1866-1888. From 1874 to 1878, he was a professor of law at the United States Military Academy at West Point. As judge advocate, he was called upon to represent the Army and Navy in civil cases affecting the War and Navy Departments. He won several cases that he argued before the United States Supreme Court. In 1878-1879, Gardiner presented the government's case against Major General Fitz John Porter (who is also interred at Green-Wood), in a review of Porter's 1863 controversial court-martial conviction. That review ultimately was decided in Porter's favor. In 1880, he was counsel to Lieutenant General Philip H. Sheridan in the famous case that investigated Sheridan's relieving Major General Gouveneur K. Warren of his command during the Battle of Five Forks, Virginia.
Subsequent to his position of judge advocate, Gardiner served as President Cleveland's Acting Assistant Secretary of War 1887-1888 and was District Attorney of New York County 1897-1900. On September 23, 1872, he was awarded the Congressional Medal of Honor for "distinguished service during the War while serving as captain of the 22nd New York State Militia." In addition, credit was given "for conspicuous bravery and distinguished conduct during the Gettysburg campaign, particularly in the action of Sporting Hill, Pa., June 30, 1863, and in the defense of Carlisle, Pa., July 1-2, 1863, being wounded at Carlisle." The award was granted after Gardiner, who was then a lieutenant colonel, asked for the accolade from Secretary of War Belknap. He wrote, "I understand there are a number of bronze medals for distribution to soldiers of the late War, and I request I be allowed one as a souvenir of memorable times past." At the time that Gardiner was awarded the Medal of Honor, he also was brevetted major general of the military forces of the State of New York under concurrent resolution of the Legislature "for gallant conduct in Gettysburg campaign and gallant and meritorious services during the war." However, Gardiner's Medal of Honor was revoked, along with 900 others, as frivolous, in the "Purge of 1917" after a Congressional committee headed by Lieutenant General Nelson A. Miles determined that honorees had to show gallantry on the battlefield. Gardiner, however, refused to return the medal despite a directive from Secretary of War Nelson D. Baker, arguing that the decision to revoke his medal was "a scandalous act, " that it had been in his possession for more than 45 years, and that it was rightfully his. From 1899 to 1919, Gardiner served as secretary-general of the Society of the Cincinnati, an elite organization whose membership is composed of descendants of officers who served in the Continental Army. He is interred at Green-Wood in section 13, lot 9194.
We had all of this information about this fascinating and very full life in our biographical dictionary of Green-Wood's Civil War veterans. Thanks to Susan Rudin for her work on this. However, I had never seen a photograph of Gardiner, and never expected to see one. So, you can imagine how thrilled I was when I was able to buy the photograph here for The Green-Wood Historic Fund's Collections.