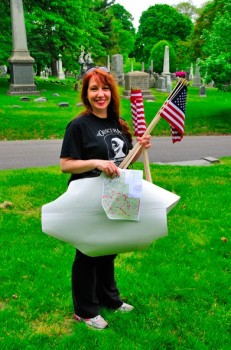 We have big plans for the rapidly-approaching Memorial Day Weekend 2011.
This spring is the sesquicentennial of the beginning of the Civil War–it all began 150 years ago. We are going to have a great exhibition ("Honoring Their Sacrifice") in our Historic Chapel from May 28-June 12 (with 3 Civil War Artillery pieces, including a Confederate gun cast in Columbus, Georgia–it is one of five cast, and the only one that survives, a fireman's badge worn by one of our Civil War veterans, letters by and photographs of our Civil War veterans who lie at Green-Wood, the casualty list for the 14th Brooklyn Regiment at Gettysburg, a slide shows of the faces of Green-Wood's Civil War veterans, another slide show of some of their gravestones, a 3-D viewer for stereoscopic slides of the Civil War, and much more). We are also staging a Grand Procession Sunday night, May 30, in the dark–with Civil War re-enactors standing along the road as honor guards, musicians playing and singing (an 11 piece brass band, a choir, and two fiddlers plus a dulcimer), luminary candles and flags on the graves of each of our Civil War veterans, and much more. It will be spectacular! Then, on Monday morning, re-enactors and descendants of our Civil War veterans will join our March of Honor out to our Civil War Soldiers' Lot, where 127 Civil War veterans are interred, to read some of their names and to commemorate their service with musket and artillery salutes.
For more information about what promises to be an unforgettable weekend, please go to our website, www.green-wood.com
This past Saturday, we began to ready the cemetery grounds for these events.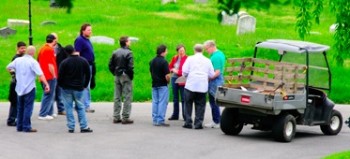 About 145 volunteers came out. Each team of volunteers was assigned to a zone in the cemetery. They went out with maps (months in the making by another team of volunteers) that they used to guide them in their placement of flags on the graves of Green-Wood's Civil War veterans. In just one day, we put about 4,000 flags out!
But we have more to do. If you would like to volunteer to join us on Sunday morning, May 29, at 9:00 a.m., we will be placing luminary candles at each of these flags, to honor these men. If you'd like to help, just e-mail me at jeffrichman@green-wood.com
Thanks to John Grant for sharing his photographs.