Green-Wood Historic volunteers have been attending research sessions on Saturdays for years now. These sessions, held about once a month, began as searches of cemetery records for hints that might lead to the identification of Civil War veterans. About a year ago, they morphed, under the supervision of Brooklyn College's Professor Tony Cucchiara, into archival processing sessions, in which volunteers take cemetery documents, unfold them, and place them in acid-free files for safe storage.
This past Saturday, 20 volunteers gathered to work on processing the cemetery's burial orders. These burial orders are an incredible resource for 19th century letterheads, signatures, and great discoveries.
One of our volunteers, working on documents for section 57, lot 2824, discovered a tracing of a Passion Cross, seven feet tall, to be created by Tiffany Studios and placed in that lot. Tiffany Studios was the firm of Louis Comfort Tiffany (1848-1933), the great artist who lies at Green-Wood. He was a pioneer of stained glass, mosaics, interior design (he decorated the White House for President Chester Arthur), and much more. His Tiffany Studios began work in 1902, and did a broad range of decorative work. Here's the Tiffany Studios letterhead–note the range of artistic work mentioned:

Here's the tracing of the Child's Passion Cross: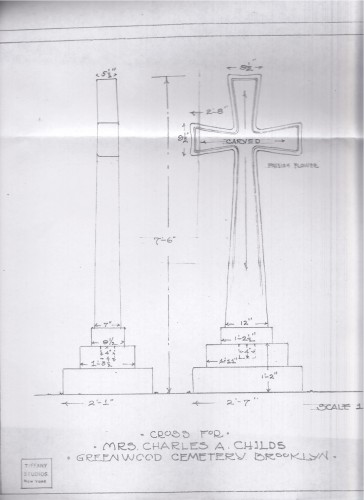 One of our volunteers, Mark Carey, went right out and got this photograph of the cross, in place.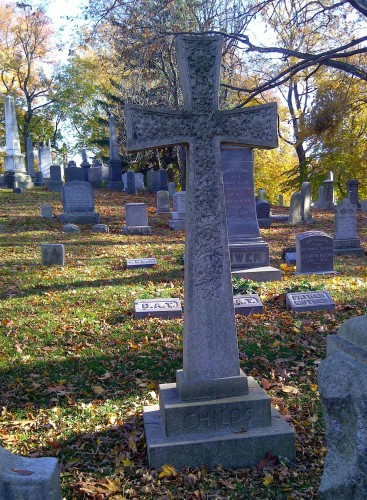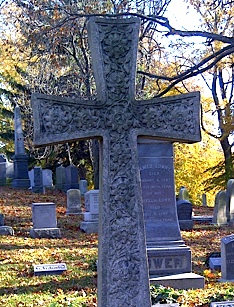 I know of two other Tiffany Studios monuments at Green-Wood. One, on Battle Hill, was discovered by Peter Nash several years ago when he was researching baseball players. And, the other one, memorializing one of our Civil War veterans, was discovered just last week by one of our volunteer Civil War researchers, who came across an article about that monument reporting on its placement at Green-Wood a century ago. I have to go out and take a look at that one asap. Undoubtedly, there are more of these Tiffany monuments out there–there is always more to be discovered.