Simeon Bankoff, executive director of the Historic Districts Council and a leading preservationist, was interviewed recently for the "Sunday Routine" feature in The New York Times.
He discusses his favorite things, one of which is Green-Wood:
ON THE PROWL I'll take a walk around the neighborhood or visit Green-Wood Cemetery. I bought a burial plot there for $10,000 six years ago. I love walking in Green-Wood even more than Prospect Park. No crazy bicyclists, no crowds. I'm seeing it slowly turning into a cultural institution that's all about history, open space and preservation, so it's kind of an appropriate place for me to end up for eternity.
Another devoted fan!
Here are Simeon and his wife, Hafina, at Green-Wood. Hafina is holding our $3 map, which is keyed to my book, Brooklyn's Green-Wood Cemetery, New York's Buried Treasure (both available for purchase on our website). That map has the final resting places of all of those discussed in the book.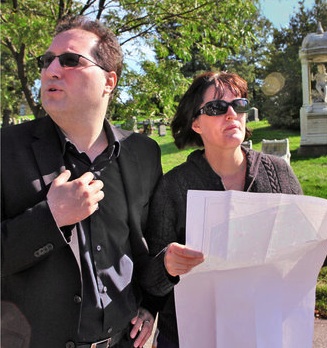 I recognize the monument behind them–they are at the corner of Atlantic and Greenbough Avenues.
Here's the entire interview.