One hundred and fifty years ago, on April 12, 1861, at 4:30 a.m., secessionist batteries surrounding Fort Sumter began their artillery bombardment of Union forces. The Civil War had begun.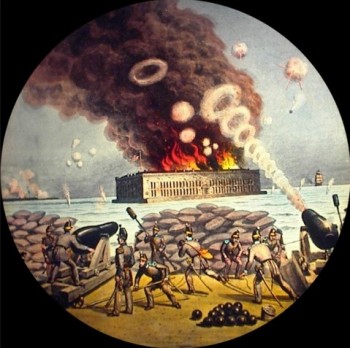 Present inside Fort Sumter that morning was Patrick Murphy (1833-1903), a musician of the 1st United States Artillery. Born in Roscommon, Ireland, Murphy immigrated to Philadelphia, Pennsylvania, and subsequently joined the United States Army in 1854 as a private, assigned to Battery D, 1st United States Artillery. After about a year in Florida, he moved with Battery D to Fort Moultrie, near Charleston, South Carolina. In March 1858, Murphy transferred to the 1st Artillery Band. On December 26, 1860, with the Federal troops in Fort Moultrie fearing capture by secessionists, he and his comrades moved to Fort Sumter in Charleston Harbor. They remained there until the Confederate forces opened fire on the fort on April 12, 1861, and the Civil War began. After withstanding 34 hours of bombardment, Major Robert Anderson (from Kentucky, but loyal to the Union), commanding the fort, negotiated the surrender of the fort and the evacuation of  his troops. Murphy and his fellow bandsmen played Yankee Doodle and Hail to the Chief as the United States flag was lowered and the United States troops marched out of Fort Sumter. Murphy, and the others, were evacuated on April 17 to Fort Warren, in Boston Harbor, where he served until the end of the War. He was then stationed at Fort Hamilton, at the entrance to New York Harbor, until 1870, when he transferred to the General Service Detachment. Murphy retired from the Army in 1890 and was discharged as a sergeant. In 1890, "suffering from physical disabilities which incapacitate him . . . by reason of age and rumatic (sic)," he applied for an invalid pension that was rejected in 1891 on the grounds that "the claimant is on the retired list of the Army and hence is not entitled to pension." He last lived on 92nd Street and Battery Place in Brooklyn. Patrick Murphy, witness to history at Fort Sumter, is interred at Green-Wood Cemetery in section 6, lot 20118, grave 913.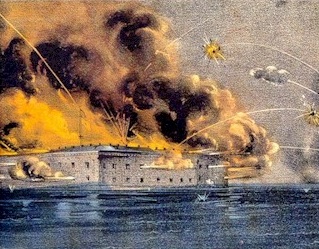 Also defending Fort Sumter that day was Francis J. Oakes (1839-1919), a corporal with the 1st United States Light Artillery, Battery E. Oakes had enlisted in the United States Army on November 9, 1858, was promoted to corporal on July 10, 1859, and remained with the 1st throughout the conflict. After being promoted to sergeant, he was discharged on May 1, 1866. Apparently he prospered after the Civil War; his last residence was the Plaza Hotel in New York City. He lies at Green-Wood in section 175, lot 23693.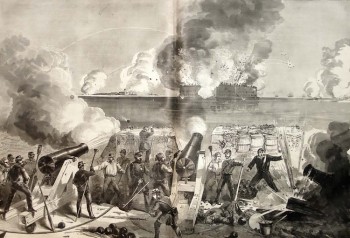 And, Henry Strand (1836-1865) also lived through the bombardment of Fort Sumter. He enlisted in the United States Army as a private on August 8, 1856, and mustered into the 1st Light Artillery, Battery H. After the bombardment and evacuation, he was sick at the Army Hospital in Hagerstown, Maryland, from June 21, 1861-August 1861, and was discharged on August 8 with the rank of private. But, not yet done with the Civil War, he re-enlisted as a private at New York City on September 5, 1861, and immediately mustered into the New York Marine Light Artillery. He was promoted to first sergeant, confined for mutiny under criminal charges (place and date unstated), but never convicted, and was dishonorably discharged on May 5, 1863. Strand re-enlisted as a sergeant on January 5, 1864, was taken prisoner during fighting along the Weldon Railroad near Petersburg, Virginia, and was confined at the notorious Belle Isle Prison near Richmond, Virginia, until 1865, when he was released because of failing health. He died at the Fort Hamilton Army Hospital in Brooklyn on October 30, 1865. His gravestone at Green-Wood, in lot 10975, grave 1118, is proudly memorializes his service in the 1st U.S. Artillery.
The Fort Sumter bombardment was commemorated this morning. For a slide show of that commemoration, click here.
For Adam Goodheart's fine New York Times article on the defenders of Fort Sumter, click here.
And, if you would like information about Green-Wood's plans to commemorate the 150th anniversary of the beginning of the Civil War on Memorial Day Weekend, click here. Finally, if you would like to volunteer to help us, in the tradition of, and to preserve the memory of, all those who volunteered to help fight for their cause, click here.
Thanks to Susan Rudin, the Civil War Project's star writer and editor, for her work on these biographies.