On June 10, 1861, more than a month before what many would say was the first battle of the Civil War (First Bull Run, on July 21, 1861), 3,500 Union troops moved against 1,200 Confederates near Hampton, Virginia. In what would come to be known as the Battle of Great Bethel (also referred to as the Battle of Big Bethel), things did not go well for the Union men; when the smoke cleared, 18 Union men and one Confederate were dead.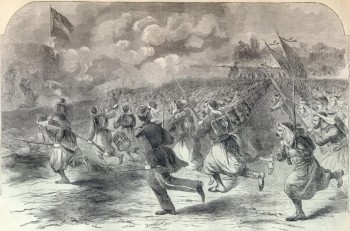 Two of those Union dead, Privates James Taylor and Adolph Vincens, both serving with the Fifth New York, are interred at Green-Wood. Vincens (1839-1861) was a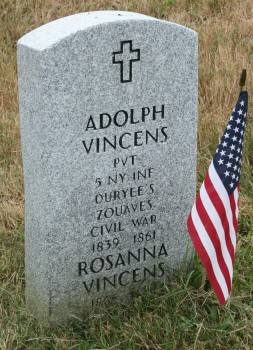 native of London, England, who worked at the prominent Broadway jewelry firm of Ball, Black & Company, then enlisted at New York City on April 25, 1861, and mustered in on May 9. He was wounded in the chest at Big Bethel and died of his wounds on June 24, 1861, at Fortress Monroe, Virginia. His brother went there and retrieved his remains. He was interred at Green-Wood on June 26 in section B, lot 9895, grave 757. James Taylor (1840-1861) enlisted on May 9, 1861, mustering into Company B of the 5th New York. He was wounded in the groin at Big Bethel (possibly from "friendly fire"), and died the next day (though some records list him as "killed in battle" on June 10). He was buried at Green-Wood on May 31, 1865 in section 11, lot 2524.
From the very beginning of our Civil War Project, back in September, 2002, re-enactors from the Fifth New York, Duryee's Zouaves, took an active part in our search for Civil War veterans at Green-Wood. Brian Pohanka, a wonderful and legendary Civil War historian whose passion was the Fifth (he started researching the Fifth at the National Archives when he was all of eleven years old), sent two of his men, Paul Hilts and Charlie Spickler, to help find men from that regiment who were interred at Green-Wood. In the spring of 2005, I was driving around Green-Wood with Paul and Charlie, who were showing me some gravesites of Fifth Civil War veterans that they believed were unmarked. They had determined that James Taylor, killed at Great Bethel, was one of those. I asked them to show me his grave, and they guided me to it. When we got there, they pointed to a spot up on an embankment. I asked it they were sure his grave was unmarked, and they said they were. But, when they told me that they had checked the lot in the winter, when there was snow on the ground, I suggested that Charlie take another look. Next thing I knew, Charlie was up in the lot, on his hands and knees, screaming "it says Great Bethel" and throwing clumps of grass in the air. It soon became apparent that James Taylor did indeed have a gravestone; for some reason, that gravestone was no longer standing, but was flush with the grass, which was growing over it. Here is his gravestone.
This, I am sure, occurred on a Wednesday. The very next evening, I went to a meeting of the North Shore Civil War Roundtable, of which I am a member and a trustee. There I saw Bill Finlayson, who I had then known for several years. I shared this story of finding this man's gravestone. Bill asked me to repeat the man's name. When I repeated "James Taylor," Bill, to my amazement, told me that Taylor was an ancestor of his. Wow! What do you think were the odds of that?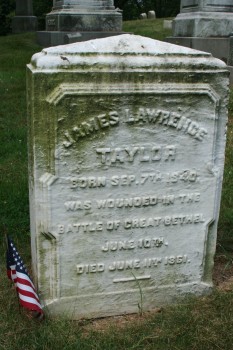 Bill, who now is the president of the New York City Civil War Roundtable, was down on the battlefield of Great Bethel on June 10 for a dedication of a monument there on the 150th anniversary of that battle. Before he left for Virginia, Bill asked for a rubbing of James Taylor's gravestone and Megan Phelan, a Green-Wood intern, did a great job doing that rubbing.
Here's Bill's description of the commemoration and a photograph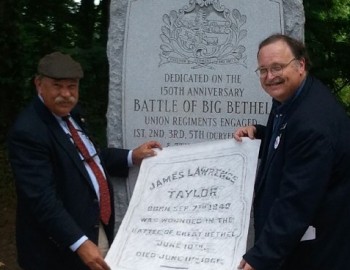 from it:
Standing with me is the Virginia historian John Quarstein who led the drive to save the last of the Big Bethel battlefield. Behind us in the woods is the last remnant of the Confederate earthwork, the centerpiece of the new park. He has just published his latest book on Bethel titled "First Battle."  . . . Great guy!
The new monument behind us is the only one raised to the Union heroes of Great Bethel – there are three Confederate monuments on the field, all placed there about a hundred years ago. The ceremony included the dedication of the new Union monument, and a rededication of the one from North Carolina. There were about 100 people present for these dedications, including the descendant of the only Confederate killed there, Private Henry Lawson Wyatt (North Carolina gave Wyatt his own monument). Jeanne Vincens and her sister, along with me, represented descendants of Duryee's Zouaves who were killed there. A few dozen reenactors of the 5th NY Inf, 1st Vermont Inf, a Confederate color guard, and a section of the battery of the Hampton Blues with two cannon all fired salutes. The Daughters of the Confederacy were also out in force, along with some local dignitaries, and lots of CW buffs. I presented John Quarstein with the Taylor rubbing, and everyone wanted to get a picture of it! Flags waved, drums beat, a bugle blew Taps. A very moving ceremony, I must say.
Thanks, Bill, for this account.