As you may know, we've been collecting items pertaining to Green-Wood and its permanent residents for years now.
What to do with all those great things?
And where to create a visitors' center for Historic Green-Wood?
Well, as Christopher Gray reports in The New York Times today (and, rumor has it, scheduled to appear in Sunday's print edition), Green-Wood is in contract to buy the landmarked Weir-McGovern greenhouse on the southwest corner of 25th Street and Fifth Avenue, just across the street from our main entrance.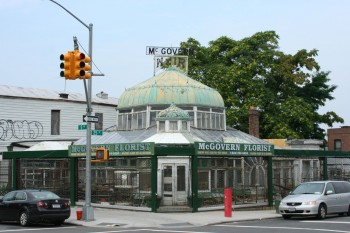 There is still some negotiation to be done; let's keep our fingers crossed that the purchase goes through. It would be great for Green-Wood!
Is it too early to start working on a volunteer schedule for staffing this building? Ok, I guess so . . .