There is nothing new under the sun.
In 1992 (can it really be that long ago?), a big scandal broke. Woody Allen, comedian, writer, Knicks fan and moviemaker, who had been in a relationship with Mia Farrow for twelve years, broke up with her over his relationship with her daughter, Soon-Yi Previn.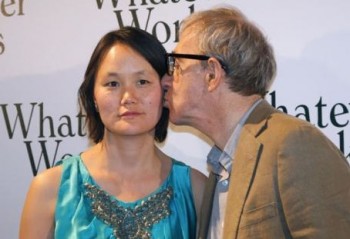 Allen was 56, Previn 22. Allen remarked, "The heart wants what it wants. There's no logic to those things. You meet someone and you fall in love and that's that." They married in 1997.
As you might suspect, Woody Allen was not the first man to find himself involved in such an affair and scandal. It had happened to Bruce Crane also. Crane (1857-1937),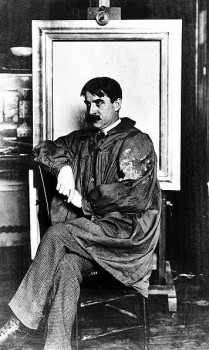 a native of New York City, studied painting there and became a painter of the Atonalist School, devoted to rendering nature's quiet, poetic mood in subtle gradations of warm golden tones. Crane was particularly noted for his late-autumn scenes, when most leaves had fallen and color were muted. The titles of some of his paintings, in the collections of many of America's leading museums, indicate his interest in the fall season: "Autumn Uplands," "November Hills," and "Autumn Meadowlands."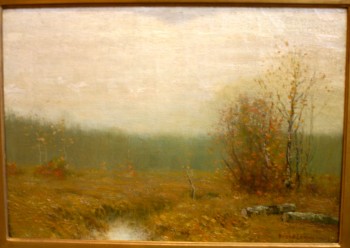 In 1902, Crane's wife, Jeanne, sued him for divorce, claiming that he had committed adultery with her daughter by an earlier marriage. But Jeanne, at the time of this filing, was in an insane asylum. The judge ruled that Crane could divorce his wife, and he did so. Two years later, he married Ann Brainard Crane, Jeanne's daughter. At the time, Bruce was 47 years old and Ann was 23.
Ann studied painting with John Twachtman and in Paris. But it appears that all did not go well in the relationship. Bruce painted in New York City while Ann was often doing the same at their farm near Utica. Bruce was a popular figure at the artists' colony in Old Lyme, Connecticut; Ann, according to her daughter, was unhappy there, unable to establish her own identity as an artist.
Bruce Crane is interred in section 1, lot 12405. A Crane family gravestone there recently has been repaired by the Green-Wood Historic Fund. That repair, a part of our "Saved in Time" restoration program, was funded by a patron of the Historic Fund who wishes to remain anonymous. The Crane gravestone does not bear Bruce Crane's name.