Memorial Day Weekend is just a few days away.
As those of you who follow my blog know, we have great plans for that weekend–the Grand Procession, the March of Honor, and an exhibition on our Civil War veterans, "Honoring Their Sacrifice."
We started setting the exhibition up yesterday and will continue to do so for the rest of this week. Our superintendent, Art Presson, worked for many years as the exhibition designer at the International Center of Photography. Over the years, Art and I have set up exhibitions at the Tennis House in Prospect Park, the Brooklyn Botanic Garden, the Brooklyn Public Library, and several in Green-Wood's Historic Chapel. Art does a great job!
Many of the items on display are from The Green-Wood Historic Fund's Collection. But we also have borrowed several great Civil War pieces for the upcoming exhibition. And, really none better than Civil War artillery pieces, lent by Denny Pizzini. Denny is quite a character, and a skilled sculptor. Denny, just back from firing his artillery down in Virginia, came rolling into Green-Wood on Monday, with 3 artillery guns and a Cohorn mortar in tow. Here's Denny, unstrapping his guns.
One of them is a Union artillery piece, cast in 1853. The other is a unique piece–it was one of only five guns cast in Columbus, Georgia, in 1863, and the only one of those that survives. The largest gun, on the left side of the photograph, is the one Denny will be firing on Sunday night and Monday morning as part of our commemoration.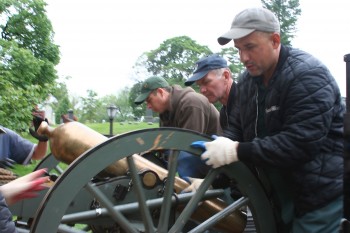 I believe this is the third time artillery pieces have been brought into this ground. Artillery first appeared on these hills during the Battle of Brooklyn, August 27, 1776, the first battle for the nation after the Declaration of Independence, and the largest battle of the entire American Revolution in terms of soldiers gathered on or about the field of battle. The Patriots in the advance guard set up artillery near Battle Hill. And, there are still artillery platforms at Green-Wood where artillery was mounted during World War II.
Our exhibition, "Honor Their Sacrifice," will be open from this Saturday, May 28, through Sunday, June 12. Hours are 12:00 noon to 4:00 p.m. during the week and 11:00 a.m. until 6:00 p.m. on weekends. Go see it; I think you will like it.