Green-Wood is many things to many people. For some, it is a place of history. To others, it is a bird-watcher's paradise. To still others, it is an arboretum; others think of it as a garden. And others think of it as a great big classroom.
Last week, a guest artist and two instructors from the Joan Mitchell Foundation's Summer Intensive Studio Program for Middle School Students brought their students to Green-Wood for inspiration and instruction. Saul Chernick (the guest artist–see an earlier blog posts on his Green-Wood work here and a portrait of him here), Jaqueline Cedar, and Natalie Beall gave their students background about Green-Wood, talked with them about their own artistic projects (all three are accomplished artists), and instructed them on drawing, including the use of stippling, hatch-marks, and pattern, to create tone in their drawing. As Saul reported, it was a thrilling day of art for teachers and students alike. You can get an idea of how well Green-Wood worked as a very special place for teaching by looking at the examples below of what these students created.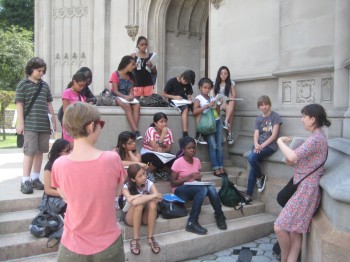 Once again, Green-Wood has served as a unique place of learning, a classroom like no other.
And, while we are on the subject of Green-Wood as classroom, if you are a teacher interested in bringing your class to Green-Wood for a tour or instruction, please contact Steven Estroff, Green-Wood's Manager of Education & Outreach. You can find more information about our programs here.