Green-Wood Cemetery has a long and proud relationship with artists. The first history of the cemetery, published in the 1840s, was illustrated with prints by James Smillie, who is interred at Green-Wood. It is the final resting place for many of the painters of the Hudson River School, the first American school of painters, including Asher Brown Durand, who led them. And, because of its artistic and picturesque grounds, it has attracted generations of prominent artists, including John Frederick Kensett, John Casilaer, David Johnson, George Catlin (painter of the American Indian), and, more recently, Andy Warhol protégé Jean Michel Basquiat. Moreover, Green-Wood's grounds have long been the subject of artists' work. Fannie Palmer, Currier and Ives's (both of whom are permanent residents of Green-Wood) most prolific artist, drew Green-Wood. And many leading 19th century photographers, including Joseph Hall and those who worked for E. and H.T. Anthony (the largest seller of 19th century photographs in America; Edward Anthony, one of the partners, is interred at Green-Wood), took images of Green-Wood.
Given this almost-two hundred year tradition, it is encouraging to learn of a contemporatry artist who has chosen Green-Wood as his subject. Saul Chernick draws Green-Wood Cemetery. Above is his drawing of a scene many of you will recognize: the dell surrounding the De Witt Clinton Monument. Saul's work has wonderful detail–I can make out the lot of David Johnson, Hudson River School painter, at top left, at the top of the hillock, with its entwined column monument (symbolizing that the individuals interred there are joined in death as they were in life).
Saul describes himself as a "big fan" of Green-Wood. And it shows in his work. In two days, on June 10, an exhibit of his drawings, Borrowed From the Charnal House, is opening at the Max Protech Gallery in Manhattan.
Here's part of the description from the gallery website:
On view are some of Chernick's largest drawings to date, including a piece in extreme horizontal format, almost thirty-five feet long and comprised of roughly thirty drawings done en plein air at Greenwood Cemetery in Brooklyn. A meditation on mortality created from a position in the living world, it also proves to be a forum in which Chernick displays his mastery of the use of line and shifts in perspective. The cemetery is seen not only as a landscape but as a museum of funerary sculpture.
And here are three other drawings by Saul of Green-Wood. The exhibition runs through July 30. If you would like more information about it, click here.



UPDATE: This image gives you a better idea of the scope of Saul's work. Here it is, all 35 feet of it, installed on the gallery wall. Very impressive!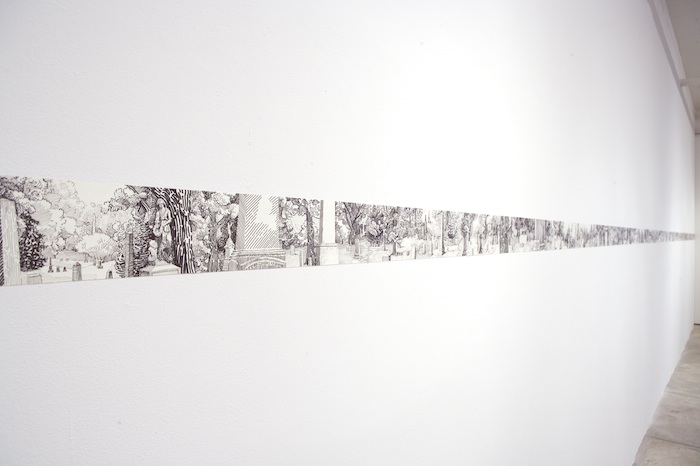 UPDATE II: For the New York Times review of Saul's show, describing the work as "zany, consummately skillful drawings," click here.