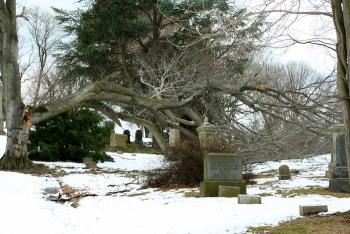 Well, I guess Nature giveth and Nature taketh away.
We do have a great collection of trees at Green-Wood Cemetery–an expert from the Brooklyn Botanic Gardens recently described our trees as the best collection of mature trees in New York City. We have about 7,000 trees–some just getting started, some more than a century old.
The recents storms that swept through Brooklyn, with strong winds and wet snow, were not kind to Green-Wood Cemetery's trees. Heavy snow and wind are never a good thing for trees. While it looks like no trees were uprooted by these forces, many (perhaps a hundred or so, by the estimate of our Superintendent of the Grounds, Art Presson) were damaged, most by having limbs snapped off. The beech tree pictured above was particularly hard hit–you can see the large section of this wonderful tree that has split off and fallen to the right. Because of the split along the trunk, this tree is likely a total loss.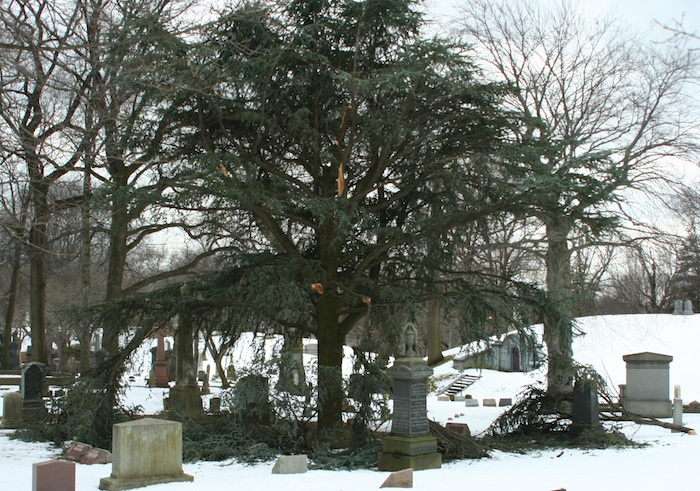 And this blue Atlas cedar was also heavily damaged–I count 5 good-sized branches that have snapped off. You can see them scattered on the ground. Hopefully this lovely tree will survive.
It is a blessing that, with all these branches coming down, it does not appear that any monuments were damaged.
I was a bit depressed as I walked out of Green-Wood yesterday, having seen all this damage. But then I saw hellebores in bloom, witch hazel flowering, and daffodils with their foliage several inches out of the ground, getting ready for their show in a few weeks. It is all part of the cycle of life, the spring rebirth. Before we know it the trees will be leafing out, with that wonderful pale green color, the copper beeches will be sprouting their vividly-hued leaves, the bulbs will be blooming, and magnolias, azaleas, and rhodos will not be far behind. Let's go spring! Are we ever ready!!!