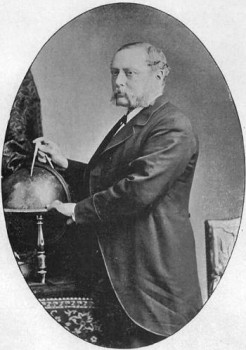 Richard Anthony Proctor (1837-1888), born in England, attended college, then became an accountant. However, he soon developed an interest in astronomy, reading, then writing, about it. He became a prominent astronomer, researching, writing and lecturing. Between 1873 and 1884 he toured Great Britain, its colonies, and the United States on lecture tours. In 1880, while on a such a tour, he met and married a Missouri woman. He spent much of the ensuing years in Missouri and Florida. But, in 1888, when he travelled to New York City in order to catch a ship to England, he became violently ill; two days later he was dead of yellow fever.
Because he had no family or friends in New York, hasty arrangements were made to have his remains interred temporarily at Green-Wood Cemetery in the lot of a local undertaker. From time to time during the years after his death, friends discussed bringing Proctor's remains back to England or purchasing a stone bearing his name to mark his burial spot at Green-Wood. But nothing was done. Finally, on June 12, 1893, The New York Times published an article about Proctor and his unmarked grave. After George W. Childs, the owner of the Philadelphia Ledger newspaper, read this report, he resolved to purchase a permanent gravesite and marker at his own expense.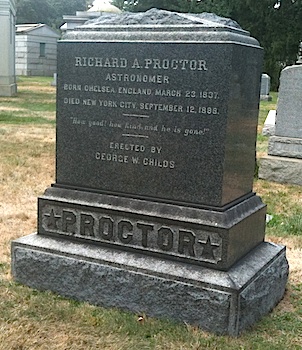 In October of 1893, five years after Proctor's death, his body was moved to a new gravesite at Green-Wood and a granite marker was dedicated there. Here it is-with "ASTRONOMER" and George W. Childs's name on it.
Note the decorations to either side of PROCTOR–for an astronomer, what more could you want on your gravestone than stars?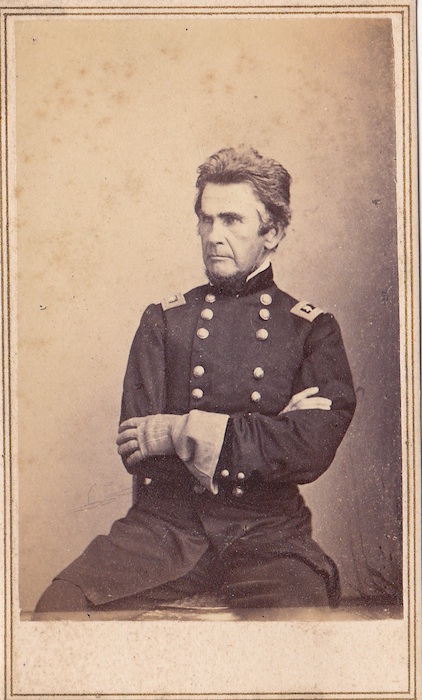 And, in a related matter, here is the Green-Wood gravestone of Civil War General Ormsby McKnight Mitchel (1810-1862). Mitchel was a prominent American astronomer before the war began. His nickname in the Army was "Old Stars." And he, like Proctor, Mitchel died of yellow fever.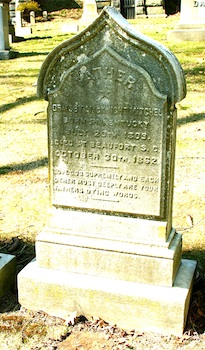 What's that on his gravestone, just below "FATHER?" Yes, you are right–a star!