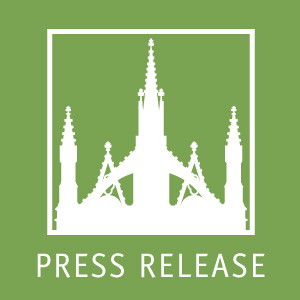 FROM: GREEN-WOOD CEMETERY
CONTACT: Kim Esp/Colleen Roche
Linden Alschuler & Kaplan Public Relations
212-575-4545; kesp@lakpr.com
Young Volunteers Work to Preserve Brooklyn's Bronzed Beauty –
the Statue of Minerva at Historic Green-Wood
FOR IMMEDIATE RELEASE
(Brooklyn, NY July 27, 2010) – Historic Green-Wood's resident bronzed beauty — the nine-foot tall Goddess of War, Minerva – got a well-deserved makeover this morning by a group of young preservation volunteers who cleaned and waxed the historic sculpture that has stood atop Battle Hill since 1920 with an unobstructed view of the Statue of Liberty. Minerva's waxing ensures that her bronzed hand shines brightly as she salutes Lady Liberty.  
The volunteers are taking part in a week-long project at Green-Wood during which they are helping restore and rehabilitate some of the Cemetery's most historic and beautiful outdoor sculptures and monuments. These projects are part of an effort administered by The Green-Wood Historic Fund in conjunction with Preservation Volunteers Inc.
Richard J. Moylan, President of Historic Green-Wood, said, "The legacy of those who call Green-Wood their final resting place will be preserved for all time through efforts like our partnership with Preservation Volunteers."
Green-Wood's Battle Hill is the site of the Battle of Brooklyn where, in August 1776, American soldiers were locked in a fierce fight with British troops.  Many of the soldiers were buried where they fell.  Minerva, sculpted by Frederic Wellington Ruckstall (1853-1942), was commissioned by Irish immigrant Charles M. Higgins, owner of "Higgins' American India Ink" company, as a memorial to the brave patriots who gave their lives in that Battle.
Green-Wood is currently petitioning the Bloomberg Administration to adopt a policy that the view corridor between Minerva and the Statue of Liberty should be preserved under Section 197-a of the City Charter.
Founded in 1999, Preservation Volunteers joins historic preservation projects with volunteers to work on them.  Structures and objects of historic, cultural, and artistic value that might otherwise be abandoned to decay–perhaps for lack of money, or of needed skills, or of available labor—find a route to preservation.
# # #
About the Green-Wood Historic Fund: The Green-Wood Historic Fund is a 501(c)(3) non-profit membership organization proactively working to raise funds to conserve and restore Green-Wood's endangered monuments and to preserve its artistic legacy.
Established in 1838, Green-Wood Cemetery is built on 478-acres and boasts extraordinary works of 19th century art and architecture.  Home to hundreds of famous historic figures in New York City history, Historic Green-Wood Cemetery offers many tours of its facilities and also offers concerts and events to the public throughout the year.  It was designated a National Historic Landmark by the US Department of the Interior in 2006.  For more information about Green-Wood Cemetery visit www.greenwoodcemetery.org .