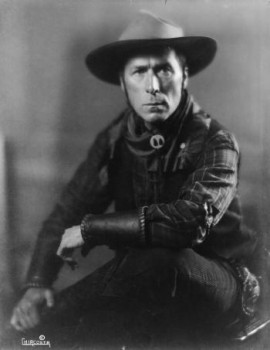 William Surrey Hart (1865-1946), star of silent screen westerns, is interred at Green-Wood Cemetery, his final resting place marked by a small granite gravestone. A native of Newburgh, N.Y., Hart lived with his family in the Dakota territory, came East to work for the Post Office in New York City, then studied acting. His New York stage career ran from 1898 until 1912, during which he played roles such as Messala in Ben Hur (1899) and western heroes such as the lead in "The Virginian" (1907). He began acting in films in 1913, appearing in "The Fugitive", then starring in at least one western feature a year through 1925, and almost always directing his feature films. At the height of his career he earned $1000 a day, an outrageous sum for that era. He was the personification of the he-man of the West to a generation of moviegoers. His horse, "Paint", was almost as famous as he was. Hart played a major role in the creation of Hollywood's Western movies while portraying the West more realistically than it had been otherwise been presented. His trademark was a dusty, down-at-the-heels authenticity. Many of his films, including "Hell's Hinges" (1916), "The Dawn Maker" (1916), "The Aryan" (1916), "The Narrow Trail" (1917), "Wagon Tracks" (1919), "The Toll Gate" (1920), "Wild Bill Hickok" (1923), and "Tumbleweeds" (1925) are considered classics. He was known for his stone-faced performances, and during the 1910s he, along with Charlie Chaplin and Douglas Fairbanks, were the most famous male screen stars in the world.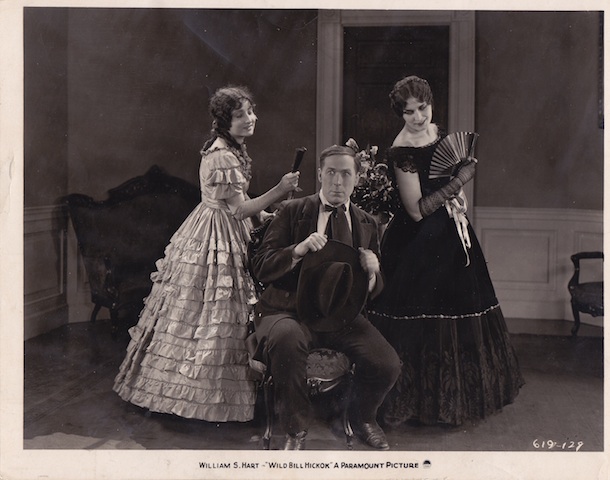 Here are a few coming attractions slides, from our Green-Wood Historic Fund collections, for his movies. These were used in movie theaters to promote the next movie–all the theater owner needed was a projector and a pen with which to write the dates of the week of upcoming showings. Looks like "White Oak" would be playing on Thursday and Friday.
Hart also wrote many books during his heyday, including Told Under A White Oak Tree (1922) and Hoofbeats (1933). He rarely worked after 1925, spending most of his time at his ranch in California, which is now a California state park.
It is appropriate that this former postal worker, who made it so big in the movies, is about to be honored by the United States Postal Service with a stamp of his likeness, to be issued in April. The New York Times recently reported the details.
Update: An some of you may know, we are constantly adding new material to The Green-Wood Historic Fund Collections. Here's a new addition–it just arrived in the mail a few minutes ago. Below is a nice black and white photograph of Hart in "Wild Bill Hickok." Enjoy.