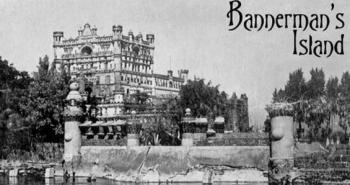 Francis Bannerman was a leading dealer in military surplus after the Civil War. He owned an island in the Hudson River, where he stored his huge stock in a castle that he built there. There are many wonderful images of Bannerman Castle online.
And here's the website for the Banneman Castle Trust.
We have written this biography of Frank Bannerman for our Civil War Project:
BANNERMAN, FRANCIS (1851-1918). Weapons dealer. Born in Dundee, Scotland, he was brought to Brooklyn by his parents at the age of three. His father joined the Union Navy at the outbreak of the Civil War, but was soon injured and discharged. Francis and his father then went into business buying rope scraps for resale to paper manufacturers. When the War ended, they began to buy surplus Union arms to resell as scrap metal. They also modified some of these guns for resale. By 1884, he was in his own business, selling arms by mail order from a handwritten sheet. In 1888, he issued his first printed catalog, offering small arms, cannon, and other equipment. These catalogs, which his firm would issue until 1965, were known as "the Bibles of the gun collector." His greatest purchase was the bulk of the guns, ammunition, and equipment seized by United States forces in Cuba during the Spanish-American War. This comprised tons of equipment, including 30 million rounds of ammunition. At about the same time, he purchased 371,000 new United States uniforms, and Springfield rifles recovered from the sunken USS Maine. In 1900, Bannerman purchased Polopel Island in the Hudson River four miles south of West Point, renamed it Bannerman's Island, and built his arsenal and a five-story castle there. It was there that he presided over 40 employees and the world's largest private arsenal. He opened his store at 501 Broadway in New York City in 1905. It was a collector's mecca for the next fifty years. During World War I, he donated substantial amounts of military equipment to England, including the outfitting of 1,000 Scotch National Guardsman. It was believed that his overwork in connection with his gift of 50,000 garments to Belgium led to his death. His sons continued the family business into the 1960s. In 1966, Bannerman's Island was acquired by New York State. Section 131, lot 35160.