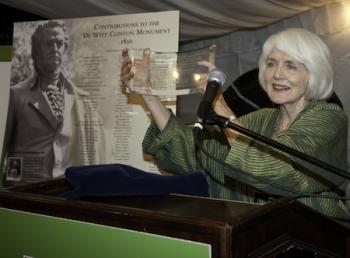 It was time to party last night: The Green-Wood Historic Fund's third annual gala. Unfortunately, apparently Mother Nature didn't get the memo, and she launched quite an assault of wind and rain. But our partygoers were not to be deterred–and a great time was had by all.
This gala will be remembered for many years–and one reason is the incredible storm that blew through Green-Wood just as our guests were arriving. When the wind picked up and the skies opened, I ran for our tour trolley. I thought I would be safe in there, leading a tour–it was nice and dry–but I didn't anticipate all the branches that would be blown down in front of us as we drove through Green-Wood. I know I've never led a tour before that included so much backing up in the face of blocked roads.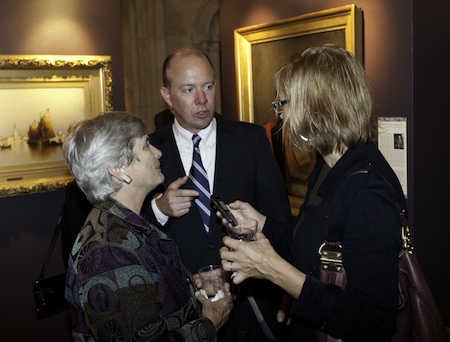 But this event will be remembered for many other reasons as well. It was Lisa Alpert's first of what undoubtedly will be many efforts at organizing a Green-Wood gala, and she did a great job. Lisa concentrated on every detail–including an extended e-mail exchange concerning the size of the ice cubes that would chill the punch. But all is well that ends well. Art Presson did an amazing job laying out the "Artists in Permanent Residence" exhibition in our Historic Chapel. Art, our superintendent of the grounds, was an exhibition designer in a former life. Give him 50 paintings, a few walls, and he's all set. Amazing that Art installed the exhibition in just two days! Here are a few of our guests and some of the paintings from the Historic Fund's Collections. All of the paintings on exhibition were done by artists who chose Green-Wood as their final resting place. And, several of the portraits had both artist and subject as Green-Wood permanent residents.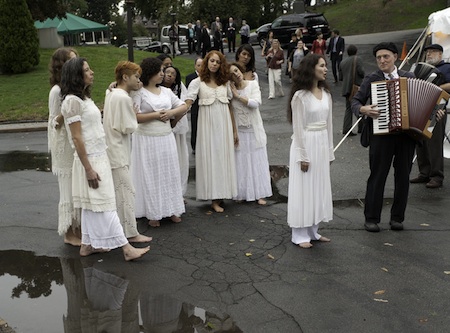 There was entertainment–here are some of the angels and accordions of "Angels and Accordions" (our very special site specific performance, coming up on October 9–click here for details and to purchase tickets) perform simultaneous versions of "Wade in the Water" and "Somewhere Over the Rainbow."
And we were very privileged to have Betsy Barlow Rogers, founding head of the Central Park Conservancy and a legend in landscape design, as our honoree. That's Betsy, above, proudly holding up the De Witt Clinton award which she received last night.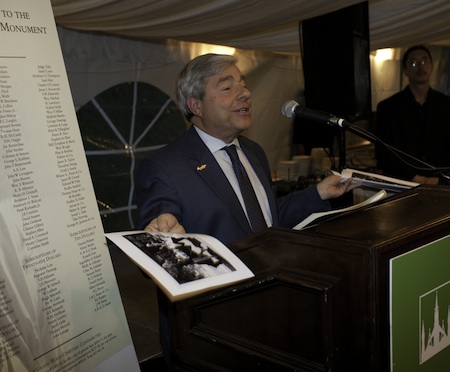 And, of course, we were very privileged to have Borough President Marty Markowitz, a great friend of Green-Wood (who has chosen Green-Wood as the place where he will spend his eternity–but not yet, by a long shot), join us. Marty, as always, humorously captured the moment. And, here, Marty shamelessly offers free copies of photographs of model Brooklyn Decker and himself. Quite a duo!
Thanks to all of you who worked so hard to make last evening such a great success. And thanks to all of our guests whose attendance made it such a special night.
Finally, thanks to photographer Bruce Katz for sharing these wonderful photographs of the festivities.