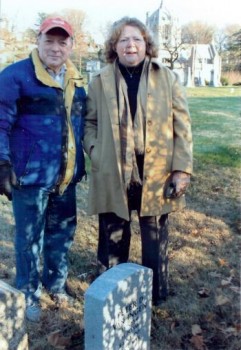 Since 2002, The Green-Wood Historic Fund's Civil War Project has been identifying Civil War veterans who are buried there, writing biographies for each of them, and making sure that each lies in a marked grave. For those whom we have discovered in unmarked graves, we have requested gravestones from the Department of Veterans Affairs. Our Graves Department, led by Rich Sneddon, has installed approximately 1,000 such gravstones so far; another 1,000 remain to be placed.
A few weeks ago, I had a visit from Dayle Zaresky. She was interested in doing volunteer work for our Historic Fund. And, she also was interested in paying her respects to her maternal great grandfather, Peter Van Ingen, a Civil War veteran who served with the famed 14th Brooklyn and who is interred at Green-Wood. So I checked our records, determined where his grave was, and printed maps so that she might find that grave. Realizing that the grave was near our office, I offered to go out with her to help her find it. So we set out, not knowing what we would find. It was very exciting to find the public lot where he is interred, work our way down the row he was in, and to discover that his grave was now marked with a very nice granite stone, courtesy of the Department of Veterans Affairs, and installed free of charge by Green-Wood Cemetery through the efforts of our Civil War Project volunteers.
Above is a photograph of Dayle and me at Peter's grave. And here's a closeup of his gravestone. It's finally marked! And he is no longer forgotten.