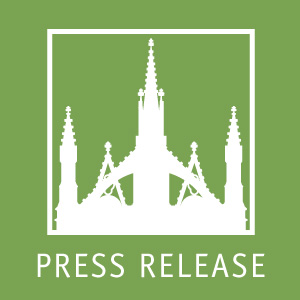 CONTACT:             Josh Salter/Colleen Roche
Linden Alschuler & Kaplan Public Relations
212-575-4545; jsalter@lakpr.com
GRAVE OF 19TH CENTURY "IRISH REBEL" DISCOVERED AT GREEN-WOOD CEMETERY
Excavation Unearths Gravestone of Patrick O'Donohue
(Brooklyn, NY) – The gravestone marking the final resting place of 19th Century Irish nationalist Patrick O'Donohue (1815-1854), leader of the Young Irelander Rebellion, has been uncovered at Brooklyn's Historic Green-Wood Cemetery, it was recently announced by Cemetery President Richard J. Moylan.
A revolutionary writer whose works captured his love and patriotism for Ireland, as well as his resentment of its political landscape, O'Donohue (Clonegal, County Carlow) became a member of the executive council of the Irish Confederation in 1847.  As one of the leaders of the Young Irelander Rebellion, he was arrested in 1848 and tried before a British "Special Commission." He was convicted of high treason, and sentenced to death by hanging, drawing and quartering.
O'Donohue, like his fellow rebels, including Thomas Meagher, was then spared by a special act of Parliament and sent to the penal colony in what is now Tasmania.  In 1850, O'Donohue began publication of The Irish Exile, Australia's first Irish nationalist newspaper. After twice being put on chain gangs as punishment for his journalism activities, O'Donohue escaped to America. He died in Brooklyn on January 22, 1854 — tragically the very day that his wife and daughter arrived in New York City.
Last year, in response to an inquiry from Ireland about whether O'Donohue was buried at Green-Wood, cemetery historian Jeff Richman began a search of the archives and found a record of the interment. However, when Richman examined the public lot where records showed O'Donohue should have been, nothing was visible. Further research of Cemetery maps showed that a gravestone had, in fact, been there years ago. The cemetery then assembled a team to explore the site. There, sunken underground, workers found a very large white marble gravestone inscribed with the words "Irish Rebel."  The site had been unmarked for decades.
Moylan said, "Green-Wood Cemetery is the final resting place for countless prominent Irish-Americans whose legacies and stories are kept alive by our willingness to remember and honor them. Green-Wood is proud to announce the recovery of  restoration O'Donohue's headstone.  The site is, once again, a place where people can visit a piece of Irish history and pay respects to this historic revolutionary."
O'Donohue is interred in Lot 4073, Grave 261.
A marker honoring Irish Freedom Fighter and Civil War Brigadier General Thomas Francis Meagher, who disappeared in 1867 while traveling by boat on the Missouri River, can also be found at Green-Wood Cemetery.  His body was never found and the circumstances of his death are unclear. His wife, Elizabeth Townsend Meagher (1840-1906) is also interred at Green-Wood (section 206, lot 30910.)
# # #
ABOUT HISTORIC GREEN-WOOD CEMETERY: Established in 1838, Green-Wood Cemetery is built on 478-acres and boasts extraordinary works of 19th century art and architecture. Home to hundreds of famous historic figures in New York City history, Historic Green-Wood Cemetery offers many tours of its facilities and also offers concerts and events to the public throughout the year.  It was designated a National Historic landmark by the US Department of the Interior in 2006. For more information about Green-Wood Cemetery visit www.green-wood.com.