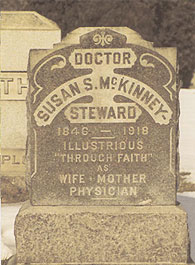 Designer: Unknown
Location: Border Avenue between Dale Avenue and Sassafras Avenue
Saved in Time Estimate: $8,000
For cleaning and repair of granite markers; replication of missing urn; and fabrication and installation of interpretive plaque (details below).
Doctor Susan (Smith) McKinney-Steward was the first African-American woman physician in New York State and third in the United States. She was graduated valedictorian in her class of 1870 from the New York Medical College for Women and practiced medicine in Brooklyn and Manhattan from 1870 to 1895. Her career included post-graduate studies at the Long Island Medical College Hospital, service on the staff of her alma mater, and later she was a founder of The Women's Hospital and Dispensary (subsequently renamed The Memorial Hospital for Women and Children). Dr. McKinney-Steward was a member of the Kings County and New York State Homeopathic Medical Societies and functioned as an official physician for The Brooklyn Home for Aged Colored People, one of the early institutions in the community of Weeksville, where she was born.
The Doctor's grave is located in the Smith Family Plot at Green-Wood. Born Susan Maria Smith, she was first married to Protestant Episcopal minister Reverend William G. McKinney, "Papa," also buried in the plot. After being widowed in 1895, she married Reverend Theophilus Gould Steward, a U.S. Army Chaplain, and lived with him at remote bases on the western frontier. The last years of her life were spent in Xenia, Ohio, where she served as a resident physician and faculty member at Wilberforce University.
Dr. Susan S. McKinney-Steward is remembered by the naming of a chapter of the National Medical Association in her honor by African-American women physicians. Her life and career are inspirational to the Society for the Preservation of Weeksville and Bedford-Stuyvesant History. Middle School #265 in Brooklyn has been named Susan Smith McKinney Junior High School as a remembrance. The Doctor's grave marker consists of a warm gray granite plinth, base and die, each element being rock dressed and tooled. The front face of the die was first polished, then tooled in part, creating panels for the principal names. The remainder of the lettering is "V"-cut incised, including the legend ILLUSTRIOUS "THROUGH FAITH" AS WIFEMOTHER- PHYSICIAN.
The top of the die is formed as a sub-base and has an anchor hole for a small (now vanished) vase, urn or possibly a statue. The monument is otherwise sound and undamaged, though slightly out of level. The Smith Family Monument, and six other markers within the plot, are in good condition, but require the resetting and leveling of several stones to restore dignity to the overall appearance. Several stones require repair of spalls and chips, particularly that of S.J.S. GARNET-SISTER MINNIE (the Doctor's sister Sarah, wife of the noted Black Abolitionist orator Henry Highland Garnet, which is missing its top proper left corner.
All the monuments comprising the Smith Family Plot require mild detergent and water blast cleaning to remove soiling while preserving polished surfaces, repair of minor chips and spalls, and repointing of jointing where necessary.
The missing top feature of the Dr. McKinney-Steward monument, which is assumed to have been an urn, should be researched and recreated to complete the memorial symbolism.
The life and career of Dr. Susan S. McKinney-Steward is deserving of additional on-site commemoration recalling her origins and achievements as a Black woman from Weeksville, Brooklyn, who made a significant contribution to community heritage. For this reason it is proposed to install a discreet informational plaque at the site providing biographical information and facts about her career.