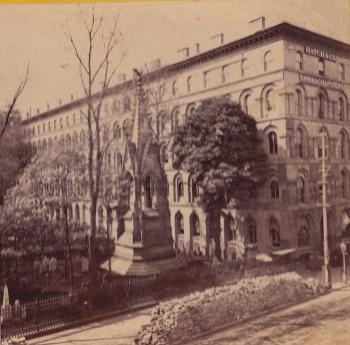 Richard Upjohn was a pioneering American architect. In the 1840's, he designed Trinity Church, which stands at Broadway and Wall Street, . He was the first president of the American Institute of Architects. He also was Green-Wood Cemetery's chosen architect of the mid-nineteenth century, designing the Arches at the grand entrance to the cemetery (the central section is shown here–it was built 1861-1863)–which have been described by Robert A.M. Stern, the dean of the Yale School of Architecture, as the greatest example of High Victorian architecture in America, Green-Wood's Receiving Tomb, and several shelters that are no longer in existence.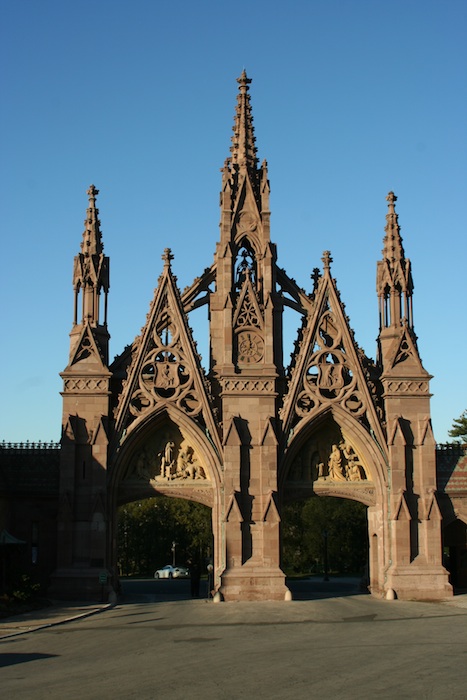 I read several years ago that Upjohn's offices were in the Trinity Building, just north of Trinity Churchyard on Broadway. Yesterday, when I came across the stereoview of this office building (see above) at an antique photograph show, something clicked. I borrowed a magnifier and confirmed my suspicions. There, arching across the top on the center window on the second floor from the top, there is a sign that reads: Richard Upjohn, Architect.
Yesterday, I purchased this stereoview, published by E. and H.T. Anthony (see my post earlier today on Edward Anthony, "Edward, Your Legacy Lives," for a discussion of that firm).
I haven't quite figured out the technology of my scanner at home, so I will try to capture a high resolution image of Upjohn's office sign tomorrow on my scanner at Green-Wood.
Update: I was able to scan a close-up of the window to Richard Upjohn's office at the highest resolution possible on the scanner at the cemetery–2400 dpi. Hopefully you can see the sign in this image. It is the center window, directly under the LITHOGRAPHER sign–it says, I believe, Richard Upjohn & Son/Architects in the circular area at the top of the window. How many hours did Upjohn spend looking east, out that window, towards Brooklyn, and thinking about the magnificent brownstone gates that he had designed for Green-Wood Cemetery's main entrance?
Though Upjohn is not interred at Green-Wood, his son, Richard Michell Upjohn, is. The son collaborated with his father on the design of the Arches and designed the entrance buildings on Fort Hamilton Parkway in the 1870s. He is best known as the architect of of the State Capitol in Hartford, Connecticut. Here's that building.