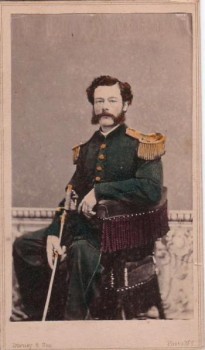 Samuel Sims was described in the Brooklyn Daily Eagle as "one of the bravest and best beloved of all the brave men who went from Brooklyn to fight the battles for the preservation of the Union" and "as brave a man as ever drew a sword." That's Sims above, in his Civil War uniform, early in the war. This photograph is one of several in The Green-Wood Historic Fund's Samuel Sims Collection. The Historic Fund owns letters that he wrote from the front during the war to his fiancee, her cherished photograph of him, dried flowers that he sent her from Virginia, a piece of his regiment's flag that he took as a souvenir just weeks before he was killed in battle, a sketch that he made during the war, and much more.
So, when I heard that the annual battlefield tour of the North Shore Civil War Roundtable (of which I am a member of the board of trustees) would include visits to Petersburg, Virginia, and The Crater (created by a huge blast from a mine that was dug underneath the Confederate fortifications), near where Captain Sims was killed on July 30, 1864, it was my hope to locate the spot where he had died. Will Greene, our wonderful tour guide and the executive director of Pamplin Park, a privately-owned Civil War site and museum, checked his reference books the night before our visit and determined that the entrenchments where Sims had died are now in woods, north of the Crater.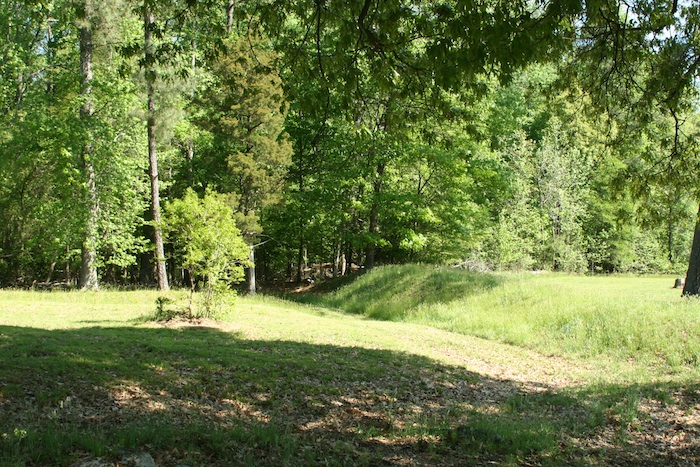 Here's my photograph, taken from just in front of the Crater, looking down the Confederate trenches towards the area, now in the woods, where Sims died. The woods were not there at the time; all of this was an open ground.
Captain George Washington Whitman, a brother of the poet Walt Whitman, served with Sims in the 51st New York Volunteer Infantry. Soon after Sims's death, Whitman described its circumstances: "Poor Cap Sims led the right wing in fine style, and just before we reached their works the Johnies skedaddled. Our orders were to take the works and hold them, but after we had held them for about two hours, the rebs massed a heavy force, in a ravine just in front of us, but out of our sight, and came down on us like a whirlwind, and we were forced to fall back to our old line of works. I tried my best, to keep the men from falling back, but Capt[ain] Sims was killed just at this time so it was no use trying to rally the men untill they got behind their old works. . . . During the ceesession of hostilities some of our boys went out and brought in the boddy of Capt[ain] Sims and it is now on the way to Brooklyn."
In 1880, a letter from James F. Steele of Lancaster County, South Carolina, appeared in the New York Herald. Addressed to the editor, it read in part: "At the battle of the Mine, at Petersburg, 1864, I was Captain of Company I, Seventeenth Regiment, South Carolina Volunteers, and in this desperate hand to hand fight, a Captain Sims, of a New York regiment (I think from Brooklyn), as he mounted the breastworks immediately before my company was killed by Sergeant LaMott. Captain Sims' sword has ever since been in my possession and I have frequently thought of returning it, for it should be possessed by his family as a glorious heirloom of the soldier whose conduct on this occasion was as heroic as ever illustrated any battlefield." With the help of the Herald, Sims's sword was returned to Brooklyn.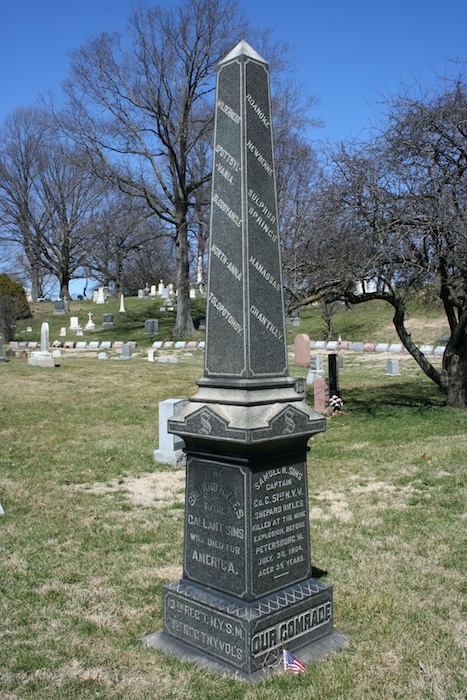 Sims was interred at Green-Wood Cemetery in 1864. His grave was unmarked  until 1888, when comrades who had served with him raised the funds to mark his grave with this extraordinary monument. Carved in the obelisk are the names of all of the battles in which Sims so bravely fought.
If you would like to read more about Captain Sims, you can do so in my book, Final Camping Ground: Civil War Veterans at Brooklyn's Green-Wood Cemetery, In Their Own Words. It is available for purchase on the cemetery website; just click here.