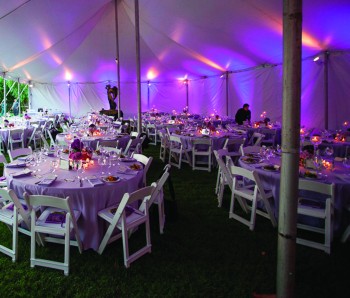 Each September, the Green-Wood Historic Fund presents its De Witt Clinton Award for Excellence in the arts, literature, preservation and historic research.
The award honors the legacy of 19th-century New York Governor De Witt Clinton, who also served as mayor of New York City, state senator, assemblyman and United States senator. Clinton, who is interred in Green-Wood Cemetery, was a devoted supporter of the cultural growth of the city and the state of New York.
On a beautiful late summer evening (September 13, 2012), Green-Wood's friends and donors came together to support the Green-Wood Historic Fund. With an impressive list of sponsors, supporters and friends, this year's 200 guests enjoyed cocktails, dinner and the presentation of our De Witt Clinton Award for Excellence. Board member and national editor of the New York Times Sam Sifton spoke eloquently about the vision for Green-Wood's future as a cultural institution. NPR radio personality Kurt Andersen and his wife, Anne Kreamer, reprised a radio play about Green-Wood they'd written and presented at Andersen's live "Kings County" show earlier that summer.
Kent Barwick, former president of the Municipal Art Society, introduced Nicholas Quennell, who accepted the De Witt Clinton Award for his magnificent contributions to landscape design. Quennell's impressive accomplishments include some of New York City's most beloved outdoor spaces, such as the Tisch Children's Zoo in Central Park and restoration plans for Prospect Park, Fort Tryon Park and Lighthouse Park on Roosevelt Island. Quennell's magnificent work honors Green-Wood's origins in the historic rural cemetery movement and inspires its future.
Past Honorees:
2011: Pete Hamill, a Brooklyn native, world-renowned journalist, novelist, essayist, editor and educator. With more than 50 years experience in the newspaper business, Hamill has served as editor of the New York Post and editor in chief of the New York Daily News and has written for the Village Voice and New York Newsday. He is the author of 21 books, including the novel Tabloid City, published in 2011. Click here for an event press release and photo slideshow.
2010: Elizabeth Barlow Rogers, president of the Foundation for Landscape Studies and an educator, historian, author and landscape preservationist of world renown. She is the founding president of the Central Park Conservancy, the public-private partnership she created in 1980 and led for 15 years. (event photos on Flickr here).
2009: Nancy & Otis Pearsall, life-long advocates for the preservation of the unique architectural and cultural character of New York City (event photos on Flickr here).
2008: Debby Applegate, winner of the 2007 Pulitzer Prize for The Most Famous Man in America: The Biography of Henry Ward Beecher. Beecher, one of Brooklyn's most famous sons, is interred in Green-Wood Cemetery (event photos on Flickr here).
Click play below to watch a slideshow of photos from the 2012 event.