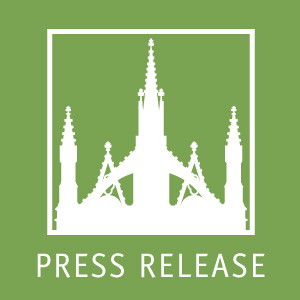 CONTACT:  GREEN-WOOD HISTORIC FUND
Colleen Roche  212-575-4545
Linden Alschuler & Kaplan Public Relations
BROOKLYN NAVY YARD
Shane Kavanagh  212-889-0808
The Marino Organization
Eugenia Farrar is Remembered as the First Person Ever to Sing Over Wireless Radio
(OCTOBER 6, 2010  Brooklyn, NY) – Early 20th-century opera signer, Eugenia Farrar – the first person in history to sing over a wireless radio broadcast – was laid to rest this morning during a ceremony at Brooklyn's Historic Green-Wood Cemetery more than a century after her historic broadcast in 1907 and almost 45 years after her death in 1966. Farrar's cremated remains were interred in an elegant glass-plated niche at Green-Wood's beautiful Tranquility Garden.
Born in 1873 or 1874 in Stockholm Sweden as Ada Eugenia von Böös, Farrar's journey to Green-Wood was long and circuitous. According to relatives still living in Sweden, Eugenia grew up in a rather privileged family; but after they lost all their money, the 17-year-old and her mother emigrated to the U.S. with nothing but Eugenia's magical voice.
In October 1907, Farrar, then a concert and opera singer, was invited to the crowded midtown laboratory of Dr. Lee DeForest — the "father of radio" — to test his new wireless "arc radiotelephone."  Farrar performed two selections, including "I Love You Truly." The transmission was successfully received by civil engineer Oliver Adams Wyckoff on the deck of the USS Dolphin, docked at the Brooklyn Navy Yard, who reported that "he had heard the voice of an angel."
More than half a century later in 1966, when she died – divorced with no heirs – Eugenia's ashes were sent to Wyckoff, who was at the time, secretary treasurer of an amateur radio club called the "DeForest Pioneers" of which Eugenia was also a member.  Eugenia's ashes remained with the Wyckoff family until 2007, when Sharon Loving, Wyckoff's great granddaughter, donated them to the Brooklyn Navy Yard's archive collection, under the care and supervision of Daniella Romano, Vice President of Programs, Research and Archive.
After learning of the story, Richard J. Moylan, President of Green-Wood Cemetery, called Ms. Romano and offered to provide a proper final resting place for Eugenia.
"When I learned about Eugenia's unique place in American history and of her long journey to the Brooklyn Navy Yard, I knew that it was only right for Green-Wood to offer her a permanent and respectful final resting place," Mr. Moylan said.  "And when I spoke to Daniella, I felt an immediate connection because, like the work she was doing at the Navy Yard, here at Green-Wood, the mission of our Historic Fund is to preserve history for generations to come.  We work tirelessly to create dynamic cultural and educational programs that are easily accessible to the public and help solidify our emerging role as an important resource for researchers and historians."
Mr. Moylan added, "I'd like to thank everyone who helped make today's memorial possible.  It's been a long time in coming, but I'm proud to say, welcome home Eugenia."
-over-
Ms. Romano said, "Eugenia's broadcast is a proud moment in the Brooklyn Navy Yard's 200-year history and in human communication.  She was one of the many pioneering women whose contributions made this former military base an invaluable resource in American technological innovation.  Eugenia has been heard and her story will continue to be told in an exhibition at the Brooklyn Navy Yard Center at Building 92 next year."
Among Eugenia's new neighbors at Historic Green-Wood are other musical luminaries including the incomparable Leonard Bernstein; American pianist and composer Louis Moreau Gottschalk; Broadway composer Fred Ebb; and 19th-century stage actress Laura Keene who – on April 14th 1865 – was performing on stage in Ford's Theatre when President Abraham Lincoln was shot.
Eugenia also joins other pioneers who are interred at Green-Wood including Walter Dorwin Teague — one of the leading industrial designers of the 20th century; Samuel Morse, inventor of Morse Code; Elias Howe, creator of the sewing machine; Walter Hunt inventor of the safety pin; and countless other fascinating Americans.
Artists Melissa Dubbin and Aaron S. Davidson designed and created Eugenia's new porcelain urn.  The urn is designed with an actual recording of Eugenia singing "I Love You Truly" which was cut into the porcelain with a hand-made lathe and sapphire cutting tool – similar to the mechanism used to cut vinyl records.
A letter from Eva Thomasdotter and Rebecca Bugge, Eugenia's relatives in Sweden, was also read at today's ceremony. They wrote, "It is a great honour for our family to participate in this ceremony for Ada Eugenia von Böös-Farrar. To us, here back in Sweden – the country where she was born, she was very important to us, even though we've never met her.  Her portrait is still hanging in our home and she is very much a part of us all."
On hand for today's ceremony were Mr. Moylan, Ms. Romano, Ms. Loving, Green-Wood's historian Jeff Richman, and others.
In tribute to Farrar's groundbreaking broadcast, accomplished vocalists Melissa Dubbin and Molly Sturges performed "I Love You Truly" as the ceremony concluded.
###
THE GREEN-WOOD HISTORIC FUND is a registered 501(c)(3) non-profit membership organization established in 1999 to maintain Green-Wood Cemetery's monuments and buildings of historical, cultural, and architectural significance; to advance public knowledge and appreciation; and to preserve the natural habitat of one of New York City's first green spaces.
Incorporated in 1838, Green-Wood Cemetery stretches across 478 acres and boasts extraordinary works of 19th-century art and architecture.  Home to hundreds of famous historic figures, historic Green-Wood Cemetery offers many tours of its grounds, concerts and events to the public throughout the year. It was designated a National Historic Landmark by the United States Department of the Interior in 2006.  For more information about Green-Wood Cemetery please visit www.green-wood.com .