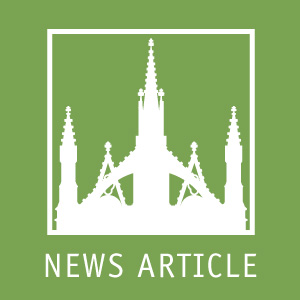 By SHELLY BANJO
Green-Wood Cemetery in Brooklyn, the resting ground for such 19th-century titans as jeweler Charles Lewis Tiffany and pianist Louis Moreau Gottschalk, is running out of its main source of revenue: burial plots.
To keep it alive, the 200-year-old cemetery's president, Richard Moylan, turned it into a nonprofit that gives guided tours and hosts cultural programs and art exhibits.
"There's too much history here to allow it to just fade away," Mr. Moylan says. He arrived at Green-Wood 38 years ago as a groundskeeper.
The 478-acre cemetery was established in 1838 because graveyards on Manhattan church grounds began filling up. Burial plots were at churchyards before modern cemeteries were invented.
A group of entrepreneurs started the cemetery as a for-profit business, persuading the family of the late New York Gov. DeWitt Clinton to move his body from Clinton Cemetery in New Britain, N.Y., to the Green-Wood Cemetery in 1850. "It was the cemetery's big break: Clinton was the most popular New Yorker at the time. After his arrival, sales increased and it became the place to be buried in New York," Mr. Moylan says.
Over the years, as immediate family members of the people buried at Green-Wood began to pass away, visitation dropped. The cemetery eventually closed its historic chapel, which became too expensive to maintain.
With nearly 600,000 people buried at Green-Wood, including infamous politician William "Boss" Tweed and Coney Island's first hot-dog vendor, Charles Feltman, the cemetery will likely run out of new space in five years. These days, a plot sells for $11,000.
New burials not only bring in people to visit, but sustain the cemetery as a business. More than half of the organization's roughly $14 million in revenue came from sales of burial plots in 2009, which dropped to $6 million last year from $7.6 million in 2008. With investment income remaining flat, the cemetery's operating loss stood at $2 million in 2009.
For Green-Wood to be a relevant player, Mr. Moylan says he knew he had to reinvent the cemetery, transforming it into a welcoming, cultural institution.
Overturning a rule instituted in the 1960s that allowed only lot owners or visitors to specific graves to enter the cemetery, Mr. Moylan in 1999 began to hold community events at Green-Wood and to welcome tourists. He oversaw the restoration of the chapel and held weddings, concerts and book readings in the space. In 2006, Green-Wood was designated as a National Historic Landmark and Mr. Moylan started hosting guided tours, showcasing the famous artists, actors and Civil War heroes interred there. He launched a summer-internship program for high-school and college students to work on historic preservation.
"I used to come as a kid to pick up pine cones in the winter; now I'm working in the restoration department and the fine-art collection," says Stacy Locke, a cemetery intern and art-history major at Vassar College. "There's a negative association with cemeteries, which is a shame because this is such a rich source of New York History and I've learned so much here."
The cemetery received a $75,000 grant from Brooklyn Borough President Marty Markowitz to purchase a 50-seat trolley to cart people around the grounds. Mr. Markowitz notes that he snagged his plot before the cemetery fills up: "Because I am fair-skinned, my final resting place is under a tree and out of the sun."
Permalink
View Slideshow
Photos: Michael Rubenstein for The Wall Street Journal
Copyright 2010 Dow Jones & Company, Inc. All Rights Reserved