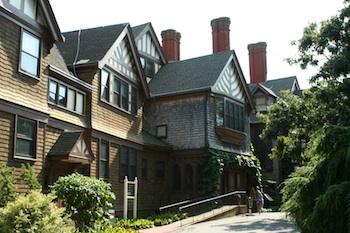 Last week, I headed out to the Bayard Cutting Arboratum in Great River on Long Island near its south shore, along the west bank of the Connetquot River . This magnificent private estate, home of William Bayard Cutting (1850-1912) and Olivia Murray Cutting (1855-1949), his wife, (pictured here) and their four children, was donated by the family to New York State in the 1940s "to provide an oasis of beauty and quiet for the pleasure, rest and refreshment of those who delight in outdoor beauty; and to bring about a greater appreciation and understanding of the value and importance of informal planting." William Bayard Cutting,  whose grandfather was Robert Fulton's ferryboat partner, made his fortune in railroads, banking, sugar beet refining, insurance, and real estate.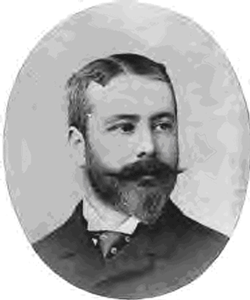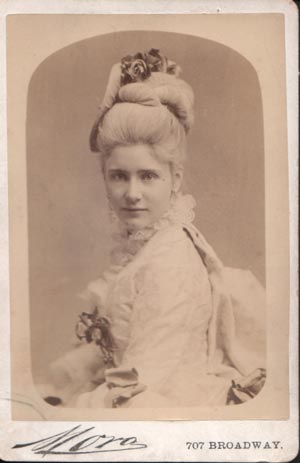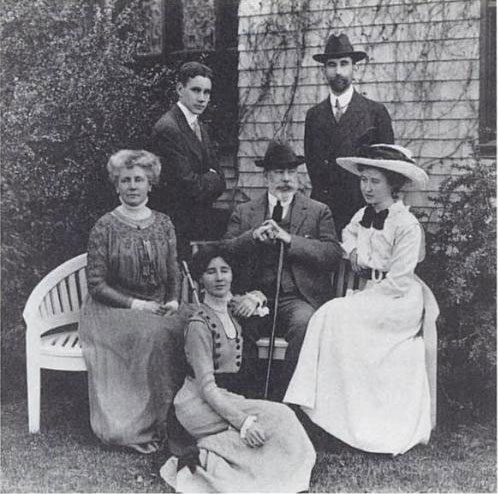 Here are the Bayard Cuttings and their four children. Quite a photograph! Everyone in this image is interred at Green-Wood Cemetery. One of the children, Bronson Murray Cutting (seen at left top), went on to serve as a United States Senator from New Mexico. He died in a 1935 plane crash. Everyone in this photograph is interred at Green-Wood Cemetery.
Though this was only the Cutting's summer estate, they spared no expense. They hired Frederick Law Olmstead's design firm to lay out the plantings. The grounds are magnificent; in 1993, the estate masquaraded as a Newport mansion for the shooting of the archery scene in Martin Scorcese's classic movie, "Age of Innocence," starring Daniel Day-Lewis, Wynona Ryder, Michelle Pfeiffer, and Joanne Woodward. The Bayard Cuttings hired their good friend, Louis Comfort Tiffany, to decorate their fireplaces and windows.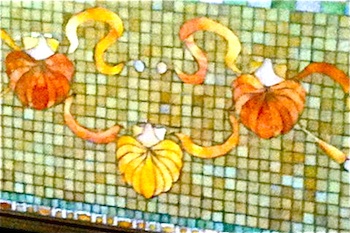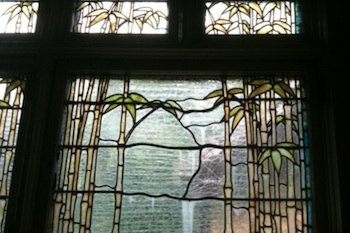 Here's a detail of a magnificent mosaic fireplace surround by Tiffany, and great stained glass windows in a bamboo pattern in the 68 room mansionWestbrook. Part of the facade of that estate house is pictured above. Very strong on gables and chimneys, don't you think? Notice how the bamboo stalks of the lower windows line up with those of the higher windows. Nice work!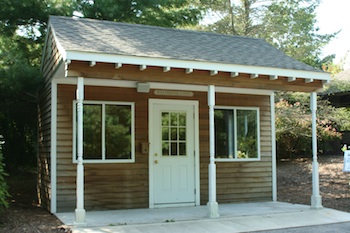 In 1895, William and his brother Robert commissioned Westbrook Golf Links, the first private golf course in America on the estate's grounds. Here is the recently-reconstructed clubhouse. It was a members only 9 hole course. Neighbor/members included John E. Roosevelt (cousin of President Theodore Roosevelt), Frederick G. Bourne (Singer Sewing Machine), and Horace O. Havemeyer (Domino Sugar).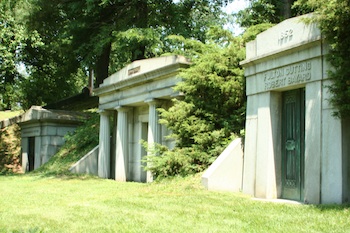 Here's the hillside at Green-Wood where the Cuttings mausolea and graves are located–their final mansions.