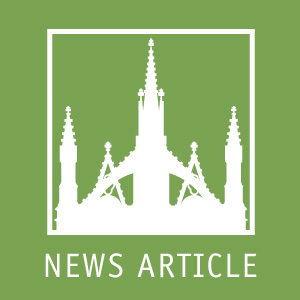 Tuesday July 28, 2009
By Chris Waddington, Contributing writer, The Times-Picayune
One of New Orleans' greatest musicians got a boost in New York this month, but he couldn't join in the celebratory announcement. That's because Louis Moreau Gottschalk was laid to rest in Brooklyn's Green-Wood Cemetery in 1869.
On July 6, the historic cemetery announced another step in its $200,000 campaign to restore the marble Angel of Music marker atop the world-touring pianist and composer's gravesite, which disappeared under hazy circumstances a half-century ago.
Green-Wood has selected four sculptors to submit models of their designs: Myra C. Weisgold of University Park, Fla.; Kirsten Kokkin of Loveland, Colo.; Tuck Langland of Granger, Ind.; and the team of Jill Burkee and Giancarlo Biagi of New York City.
The winning artist will be announced in October and is expected to install the new piece in 2010.
The Gottschalk project, which already has drawn about $16,000 in contributions, is part of a broader effort to repair markers and expand public access and understanding of the parklike, 478-acre facility, which contains the graves of many historical figures, including composer Leonard Bernstein, newspaperman Horace Greeley, artist Louis Comfort Tiffany and inventor Samuel Morse.
Gottschalk fits naturally in such company. Only 40 when he died on a tour of Brazil, Gottschalk was one of the best-known artists of his era. He had dazzled Chopin at his Paris debut, and his brand of showmanship included such stunts as composing music while floating above New Orleans in a balloon.
Green-Wood cemetery hopes to raise $200,000 to restore this Angel of Music marker atop Louis Gottschalks grave.
More importantly, he anticipated the musical revolutions of ragtime and jazz by half a century, writing music that fused syncopated Creole rhythms with European concert styles of the Romantic era.
"We'll be honoring a New Orleans native with this project, but we're also addressing issues that are faced by many historic cemeteries, including those in New Orleans," said Green-Wood President Richard Moylan.
Green-Wood, founded in 1838, is comparable to Metairie Cemetery in style. Both were part of a 19th-century trend to create "garden cemeteries." Other examples include Pere Lachaise in Paris, Mount Auburn in Boston and Laurel Hill in Philadelphia.
"When most of these cemeteries were built, they were used as picnic spots and treated as tourist attractions," Moylan said. "They predate most of America's big-city parks. In fact, the designer of New York's Central Park, Frederick Law Olmsted, walked through Green-Wood Cemetery for inspiration."
Moylan and his counterparts in other cities are working to remind people of that heritage — and at Green-Wood it seems to be working. More than 300,000 tourists visit the grounds annually. The cemetery hosts concerts, runs tours and recently completed a $250,000 restoration of its Civil War monument.
"Our open-door policy is a huge change from the 1980s," Moylan said. "Back then, we were suffering from vandalism and theft and Green-Wood became a fortress. Visitors were often turned away if they couldn't show that they had a relative buried here."
The new attitude was spurred by two factors: Green-Wood faced skyrocketing costs to maintain its historic infrastructure, and, like many 19th-century cemeteries, it was running out of room for the new burials that produce immediate income.
"We needed to remind people that we have a huge, national historic treasure here," Moylan said.
Fans of Gottschalk feel the same way about the composer, whose hybrid style has won a host of new admirers over the past two decades. Most of his piano pieces finally have been recorded, and the contemporary composer Gunther Schuller has reconstructed a number of orchestral works. In 1995, Oxford University Press published a full-scale biography by the noted scholar and musician, S. Frederick Starr.
"For a time, people dismissed Gottschalk because he wasn't Beethoven or Brahms, but he was never trying to emulate them," Starr said. "These days, we've become interested in artists who move between musical styles and cultures. In that sense, he's comparable to Gershwin and Bernstein, but, of course, he did it before the Civil War. Gottschalk was the first Pan-American artist in any field."
Several New Orleans jazz players also have caught the Gottschalk bug, including clarinetists Evan Christopher and Ben Schenck, pianist Tom McDermott and the players who work with Starr in the Louisiana Repertory Jazz Ensemble.
"Gottschalk is important as the earliest example we have of a New Orleans musician taking the mix of African and European influences available here and making something new," McDermott said. "He's a good person to celebrate now since he helps to highlight the idea that New Orleans has been a wellspring of American music from the 1840s on. Not just from Louis Armstrong's day to Fats Domino, but from the Civil War era to Wynton Marsalis and Harry Connick Jr."