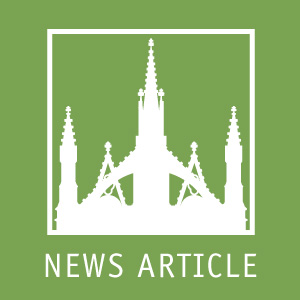 July 23, 2009
Local sculptor a finalist for cemetery piece
She used to stand over the grave of legendary 19th-century American composer and pianist Louis Moreau Gottschalk. Directing an invisible symphony with a harp at her feet, the angelic marble figure rose above the surrounding headstones in Brooklyn's historic Green-Wood Cemetery.
That was until it mysteriously disappeared 50 years ago.
Nearly 700 miles west, in a revamped garage behind his Granger home, Tuck Langland has been creating a new angel he hopes will stand atop the Gottschalk grave. "I'm making a few changes to her," said Langland. "I have her wings spread, instead of hanging on her back like limp laundry, and she's coming down on one toe. She's descending. She's coming down and touching the earth."
The retired Indiana University South Bend professor has already molded a one-quarter sized model of the "Angel of Music, which he hopes to cast in bronze.
Plans to raise another angel over Gottschalk's grave came from the Green-Wood Historic Fund's Saved in Time project. Four finalists from a talented nationwide pool were selected three months ago. A selection committee will announce who recieves the commission in October.
If Langland is selected the Gottschalk sculpture will be just one of many commissioned to the well-known artist. Langland has created many well-known centerpieces across the country and his work is featured in collections across the globe.
"This is the golden age of sculpture," he said. "We're making more public sculptures in the last 10 years than have ever been created."