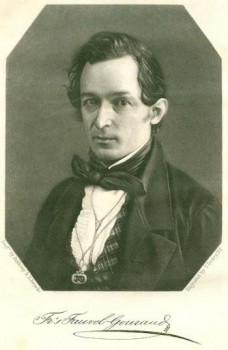 Early in 1839, Louis Daguerre offered his invention, the Daguerreotype, to the world. That invention was the birth of photography. Daguerre then dispatched his pupil, Francois Jean-Baptiste Gouraud, who was the agent for the manufacturer of equipment endorsed by Daguerre, to America to introduce photography. It was 170 years ago today that Gouraud arrived in New York City on his mission.
Gouraud sent a letter to New York City's leading artists and citizens, inviting them to attend his lecture to learn this new process. He held similar lectures in Boston and Newport. Though Gouraud opened a photo gallery in Buffalo in 1842, he soon closed it and toured America, lecturing on a memory system. A man of great learning, he was fluent in five or six languages. After his wife died, his health steadily declined, and a month later, on June 16, 1847, he was dead. He left two orphans. He was buried in the Unclaimed Body Lot at Green-Wood Cemetery. He lies there in an unmarked grave. For his obituary that appeared in the Courier des Etats Unis.

Just a week ago, I gave a presentation at the Daguerreian Society's Annual Symposium, talking about pioneering Daguerreians at Green-Wood Cemetery and asking for contributions to finally give this important historic figure a gravestone, 162 years after his burial. I have donated my honorarium from that symposium to the fund for his marker. Here's Gouraud's final resting place, unmarked. If you would like to contribute towards marking the grave of this important figure, click here.