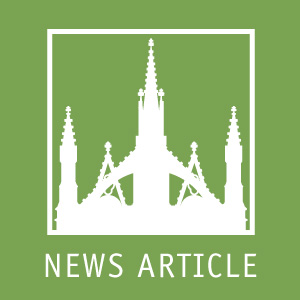 Historic grave sites are crumbling at New York's Green-Wood Cemetery — the resting place of Leonard Bernstein, Louis Tiffany and others — and the money to save them is scarce.
It's tough being an angel, even in as idyllic a setting as the Green-Wood Cemetery, where the leaves of shade trees rustle in the summer breeze and the grassy hills offer vistas of New York Harbor.
Acid rain eats away the delicate tips of wings. Marble hands clasped in prayer lose their fingers and thumbs. Noses drop to the knolls. Some cherubs, targets for thieves and vandals, simply vanish.
Sure, the full-time residents of Green-Wood might not notice. Leonard Bernstein (1918-90) has yet to rise up in protest. Louis Comfort Tiffany (1848-1933) remains quietly at rest. So do the soldiers and generals of past and present wars, the men who gave us the Steinway piano, animal rights, soda pop and the sewing machine, and the actress reputed to have cradled Abraham Lincoln's head on her lap as he lay dying.
But those responsible for preserving the 171-year-old national historic landmark do notice — and lately they've found another problem to contend with: The economy is taking a toll on efforts to save the statuary that graces Green-Wood.
"We have a good endowment, but of course it's not as good as it was a year ago," said Richard J. Moylan, president of the Brooklyn cemetery, which in June announced an effort to raise $200,000 to repair the grave site of composer Louis Moreau Gottschalk (1829-69). Its angel was stolen about 50 years ago, leaving only a white pedestal rising from the ground like the stump of a hacked tree.
The fundraising has "gotten off to a slow start," Moylan said, "but hopefully it'll improve and we'll get it done."
The Gottschalk restoration has been on Moylan's to-do list for 11 years. In that time, other projects have been completed — most notably the renovation of the cemetery's 140-year-old Civil War monument, which sits atop Green-Wood's highest point. The city contributed $125,000 and the cemetery matched it.
But with donations harder to drum up nowadays and a limited amount of plot space left to sell, fundraising has taken on new urgency.
That means doing things one might not normally associate with a cemetery, like the trolley tours — $15 a person — that began this month. "In tough times, cutting back on programming is really a mistake," Moylan said. "Raising the visibility of the cemetery in general will hopefully positively impact on fundraising efforts and let the people see the results of what we do."
On the inaugural ride, held on a warm and muggy Wednesday afternoon, about a dozen people listened to tour guide Marge Raymond relate that Green-Wood was one of the United States' first "rural cemeteries," modeled after the likes of Pere Lachaise in Paris, where Jim Morrison is buried. The idea behind rural cemeteries was to create bucolic settings where graves were scattered across hills and valleys rather than set in straight rows.
"Every little turn should offer a different vista, and that's what we've got here in Green-Wood," Raymond said as the trolley stopped in front of a towering statue of DeWitt Clinton, a New York governor who died before Green-Wood existed. Clinton originally was buried in Albany, the state capital, but was reinterred here in an effort to draw tourism and funeral business.
For a while in the 19th century, the Brooklyn cemetery was second only to Niagara Falls as New York's biggest tourist draw.
As Green-Wood's popularity as a final resting place grew, so did the grave sites of the rich and famous — and not-so- famous.
The mausoleum for Henry Bergh (1811-88), founder of the American Society for the Prevention of Cruelty to Animals, is a pyramid, one of three dotting Green-Wood's hills. Henry Steinway (1797-1871) of piano fame has the largest mausoleum, rising 128 feet above the ground and reaching 128 feet below. Charlotte Canda, just 17 when she died in 1845 after being thrown from her carriage when the horses bolted, is buried in a lavish marble tomb that includes spires, an intricately carved tabernacle sheltering a statue of her, and large angels keeping watch.
Amid the ornate graves are headstones for pets like Fannie the dog, whose owner was sewing machine inventor Elias Howe. Howe died in 1867; Fannie lived until 1881.
Until about a decade ago, Green-Wood did not undertake restoration efforts unless there was an endowment established to care for a grave site. "Then we realized we have too many beautiful monuments and works of art, and if we did nothing, many would just disappear," Moylan said.
And it's not just the monuments that need work. The cemetery's 108-year-old chapel recently was restored. (Nobody would guess that the wooden pews came from usedpews.org.)
Some of the work at the cemetery has been paid for with general funds or through specific fundraising campaigns. Green-Wood officials also try to find relatives of the deceased to see if they can contribute.
Moylan said the key to generating donations might be to approach people who viewed the cemetery not as a graveyard but as a peaceful open space.
In the meantime, he said, he must nudge family members. About $20,000 is needed to fix one particular angel, and Moylan said Green-Wood would pay half if the family raised the other half.
"It's one of my favorite angels in the cemetery," Moylan said. But the discussion was four years ago. The family still has not come up with the funds.
tina.susman@latimes.com
Copyright © 2009, The Los Angeles Times