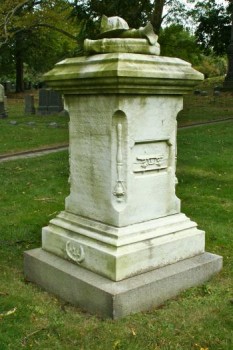 I recently found myself at an Association for Gravestone Studies convention in Schenectady with a few hours of free time, and decided to head over to the New York State Museum in Albany for a visit. Headed in–quite an exhibition on September 11–video of a fireman who lost all of his fellows, a badly damaged FDNY truck, and much more. In the next room was a display of firetrucks used in New York in the last two hundred or so years. And on the wall was a 19th century marble memorial to Fireman Andrew C. Schenck. A volunteer with the Mutual Hook and Ladder Company Number One of the New York City Volunteer Fire Department, in 1854, according to the plaque, "At the sound of the alarm, he told his fiancee, 'I will go to this fire, and this is the last fire I will go to.'" When the William T. Jennings clothing store at 231 Broadway in Manhattan collapsed, Schenck and ten other firemen and helpers were killed–the greatest loss of life in the history of the New York Volunteer Fire Department.
This marble carving was placed in the firehouse, but, according to the sign, Schenck's colleagues, who described him as follows,
Prompt, faithful and energetic as a Fireman
Frank and generous as a Friend
Uniformly urbane and cheerful as an Associate
A man in whom there was no guile
erected a monument over his grave at . . . you guessed it . . . Green-Wood Cemetery in Brooklyn, New York.
So, here, above, at the beginning of this post, is Andrew Schenck's Green-Wood monument.  And here are details of the same monument. Note at the top of the monument the fire helmet, hose, and speaking trumpet, all of which appear on many 19th century monuments to firemen. This monument also features a fire truck on its front, downturned parade torches on its corners (symbolic of mourning, but also indicative of a line of family or comrades that continues), and even an inscription on the back: "Our Lost Comrade, Second National Guard. "If you'd like to read an account of this long ago fire, visit Google books for more information.