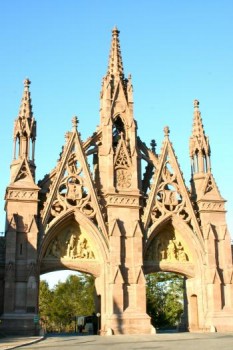 Green-Wood Cemetery's main entrance, at 25th Street and Fifth Avenue, is adorned by spectacular brownstone arches. Designed by Richard Upjohn (the architect of Trinity Church at the head of Wall Street in Manhattan and the first president of the American Institute of Architects) and his son, Richard M. Upjohn (who is interred at Green-Wood), the Arches were built during the Civil War, from 1861 until 1863.
Over the years, a good deal of patching of the brownstone has occurred. Though that patching was well-intentioned, it created more problems than it solved, trapping water in the stone rather than allowing it to seep out. So, in 1995, a major project was undertaken that removed some of that patching. And, a second project, to remove many of the remaining patches, is in progress, and should be completed in the spring.
If you've been to the cemetery recently, you may not have seen much of the Arches–they were hidden under scaffolding for several months. But the Arches are back now–and spectacular once again. Several years ago I heard Robert A.M. Stern, dean of Yale's School of Architecture, describe the Arches as the outstanding example of high Victorian architecture in America. They are once again visible, in all their glory.