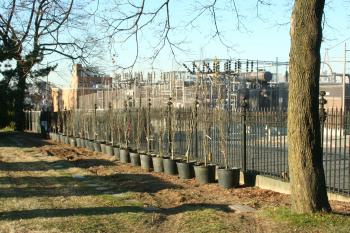 The New York Restoration Project (NYRP), founded and sponsored by entertainer/philanthropist Bette Midler, and a part of Mayor Michael Bloomberg's MillionTreesNYC, has returned to Green-Wood Cemetery. In the summer of 2008, Green-Wood Superintendent of Grounds Operation Art Presson was approached by NYRP leaders. They thought our grounds would be a great place to plant trees in support of Mayor Bloomberg's efforts to use trees to remove carbon from the air and thereby reduce childhood asthma. Green-Wood had about 7,400 trees before this program, including what has been described by an expert from the Brooklyn Botanic Gardens as the greatest collection of mature trees in New York City. Last fall, NYRP purchased and planted 400 trees across Green-Wood's 478 acres, including 115 oaks of ten different varieties, four varieties of lindens, as well as dawn redwoods, crabapples, magnolias, lilacs,  redbuds, tupelos, tulips, and sweet gums.
The above photograph shows the 25 columnar hornbeam trees that are about to be planted along Green-Wood's fence near the intersection of 24th Street and Sixth Avenue. These trees will soon grow into a live screen, reducing the visibility of the National Grid facility, shown to the right.
And, fortunately, this cooperative tree planting program of the New York Restoration Project and the Green-Wood Cemetery will continue over a five year period. It is truly a great opportunity for Green-Wood to enhance its great tree collection.