236th Anniversary of the Battle of Brooklyn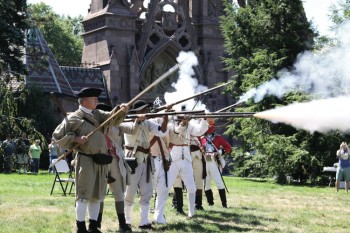 The Battle of Brooklyn, fought in August 1776 on land that is now a part of Green-Wood Cemetery, was the first battle of the American Revolution to be waged after the signing of the Declaration of Independence. In memory of the brave patriots who battled for our country's independence, The Green-Wood Historic Fund hosts a day of free commemoration ceremonies and trolley tours. This is a great event for kids and families!
Green-Wood is honored to host The Regimental Band of the United States Merchant Marine Academy, which will play during the Battle of Brooklyn Parade and also at the Commemorative Ceremony.
10:00 AM – TROLLEY TOUR (THIS TOUR IS SOLD OUT): Join author Barnet Schecter and Green-Wood historian Jeff Richman.
12:30 PM – REVOLUTIONARY WAR RE-ENACTORS: Takes place in Green-Wood's Meadow at the Gothic Arch. FREE.
1:30 PM – BATTLE OF BROOKLYN PARADE: Meet at the main gate for a parade to Battle Hill. FREE.
2:00 PM – BATTLE OF BROOKLYN COMMEMORATIVE CEREMONY: The ceremony will take place on Battle Hill. FREE.
If you are using a credit card linked to a non-U.S. address, or if you've typed in a billing address that does not match that of your credit card, you may see an error message when ordering. If so, please call us at 718-210-3080 from Mon-Fri 8am-4pm Eastern Standard Time or email us at info@greenwoodcemetery.org and we will help you complete your order. Thank you.