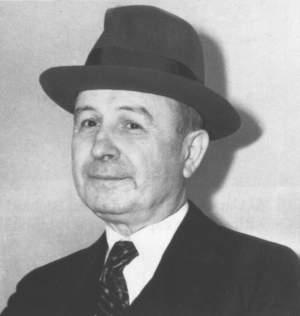 HBO's latest hot series, "Boardwalk Empire," the story of Atlantic City and organized crime during Prohibition, got off to a roaring start on Sunday. It received raves from the critics for the first show, directed by Martin Scorsese and written by Terence Winter (of "The Sopranos" fame). The premier was a smash hit–the second highest-rated first show of any series on HBO. And, just minutes ago, HBO announced that it has ordered a second year of shows into production.
For our purposes, you need to know that one of the characters in the series–in addition to Lucky Luciano, Albert Rothstein, "Nucky" Johnson (renamed Thompson in the show), and Al Capone, is Green-Wood's own Johnny Torrio. Torrio, a Brooklyn native, went out to Chicago to make his fame and fortune leading the mob there. He trained up Capone in the art of making a dishonest living. Looks like a nice man here, doesn't he? Torrio led the Chicago Outfit in the 1920s, successfully argued for the creation of the National Crime Syndicate in the 1930s, but retired after getting himself shot up in an assassination attempt, telling his protege, Capone, "It's all yours, Al. Me? I'm quittin'. It's Europe for me." Torrio died in 1957 of natural causes; his death did not become public until 3 weeks after his Green-Wood burial.
And one final Brooklyn note: the Atlantic City Boardwalk was recreated in Greenpoint for the "Boardwalk Empire" shoot–with tons of sand trucked in to create a beach.