Tree Stewardship
August 11, 2018, 10:30am

–

12:30pm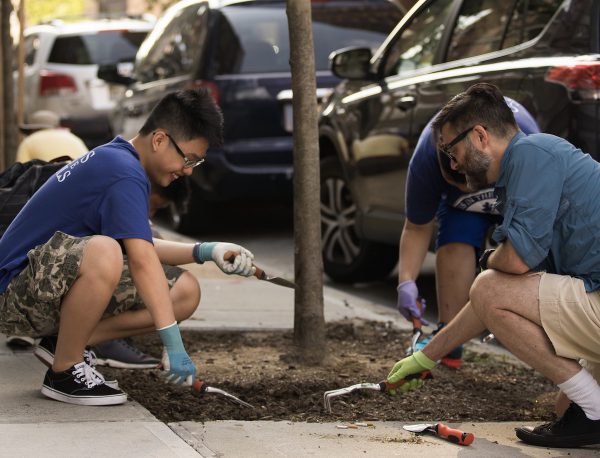 Trees New York's Tree Stewardship Training is designed to train and mobilize New Yorkers so that they can play an active role in supporting the health of our urban forest. Trees New York's Environmental Educators teach lessons on the value of a healthy urban forest and the importance of volunteer efforts. Following each lesson, volunteers steward street trees. Trees New York's Environmental Educators work alongside volunteers to guide their stewardship efforts and answer questions.
Trees New York works with both youth and adult volunteers and works throughout the five boroughs of New York City. Our target neighborhoods for 2018 include: Greenpoint, Western Queens and Northern Manhattan.
Volunteer stewardship activities include:
Tree bed clean up and soil cultivation – In addition to being unsightly, compacted soil and litter block the movement of oxygen, water and nutrients to tree roots. Volunteers remove litter and weeds from tree beds and loosen up the surface soil with hand cultivators
Watering Trees – New York City street trees live in permanent drought conditions. All trees, especially newly planted trees, need thorough and deep watering during the spring and summer. Volunteers water trees using buckets and hoses.
Mulching – Mulch conserves water, moderates soil temperatures, improves soil structure and mitigates damage from dogs, people, de-icing salts and cleaning agents. Volunteers mulch trees with mulch or woodchips.
Tree Bed Gardening – Flowers beautify the streetscape, add enriching organic matter to the soil and help deter people from walking on tree beds. In the spring, volunteers plant annual flowers such as impatiens, coleus and begonias and in the fall, we plant bulbs such as muscari, crocus and daffodil.
***
Give Trees a Chance: Environmental Justice in South Brooklyn
Green-Wood's own neighborhood, Sunset Park, is one of the fastest growing and most diverse neighborhoods in all of New York City. Yet, it also faces serious environmental challenges. Car and truck exhaust from the Gowanus Expressway and industrial emissions from its small manufacturers create higher than average levels of harmful air pollution. Street trees to the rescue! They're nature's miracle workers: they intercept and absorb storm water runoff, provide oxygen, fight climate change, and lower air temperatures.
The 6,500 street trees of Sunset Park have a job to do. And they need all the help they can get! Together with TreesNY, Green-Wood's horticulture staff is training a team of tree advocates! If you care about the environment, join us. Visit TreesNY's website, www.treesny.org, for more information and to reserve your space.
Funding for this project is provided by the NYS Environmental Protection Fund as administered by the Environmental Justice Community Impact Grant Program of the NYS Department of Environmental Conservation.