The Latest from Green-Wood's Restoration Team
July 8, 2021
,
6:00pm
–
7:00pm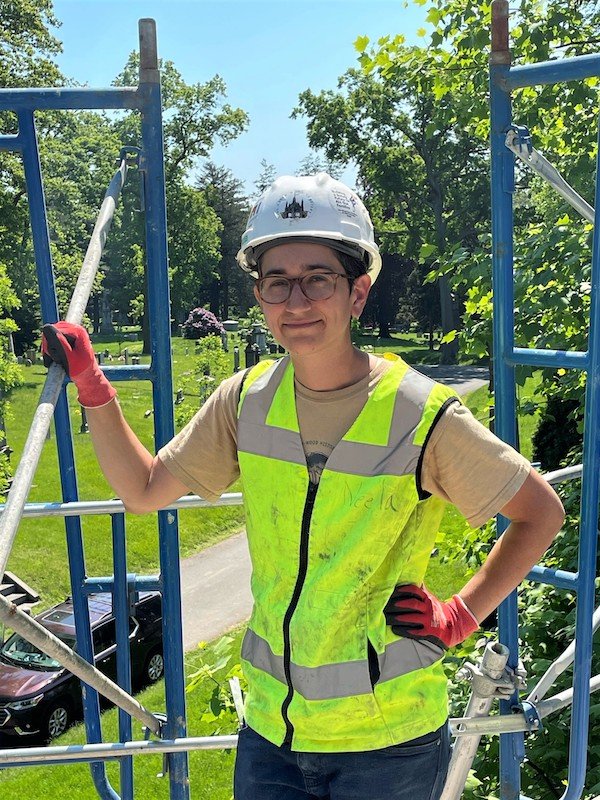 Keeping 478 acres of mausoleums and monuments upright and in tip-top shape is no small task, but since arriving at Green-Wood in 2016, Neela Wickremesinghe, the Robert A. and Elizabeth Rohn Jeffe Director of Restoration and Preservation at Green-Wood, has risen to the challenge. Along with her two-person team, they have rolled up their sleeves day in and day out to ensure that the Cemetery's greatest treasures are preserved for generations to come. Join Neela and Green-Wood Historian Jeff Richman, for a behind-the-scenes look at her team's most recent—and ground-breaking—restoration projects. You'll get the inside scoop on the massive restoration of the 1870 Garrison mausoleum, completed by a team of restoration technicians in training through the Bridge to Crafts Careers workforce development program!
$9 / $4 for members. A Zoom link will be in your confirmation email upon registration.
This conversation is part of our series of virtual programs about the history of Green-Wood and its permanent residents, Zooming in on History.
Not a Member?
Click here for all of our membership levels and information.
Already a Member?
Click the gray tickets button to activate the Eventbrite pop-up, then click Enter promo code. Type in your ID number to access your discounted and/or free tickets.
Questions?
Don't know your Member ID number? Not sure which ticket or membership type to order? Call 718-210-3080 or email contactus@green-wood.com with any questions.