Surnames in Stone: A Glossary of Green-Wood
July 14, 2021
,
6:00pm
–
7:00pm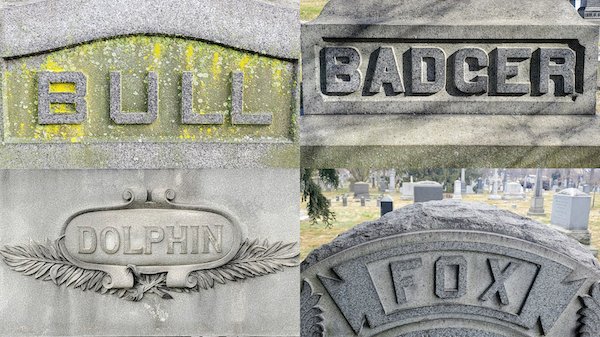 What's in a name? With over 570,000 permanent residents, Green-Wood's monuments capture thousands of surnames in stone—from the common to the unusual. Wandering the grounds you're likely to come upon some names that ring a bell: a local street name, an exotic bird, or an adjective.
During the pandemic, Alex Thurman, ever the cataloger and word-lover, discovered the Cemetery, and the fascinating grave marker inscriptions that happened to be common English words. Before he knew it, his lockdown interest resulted in the creation of Green-Wood Glossary: A Wording Expedition, a photography project: to capture his unique finds. Join Alex, along with Green-Wood Historian Jeff Richman, for a quirky look at the Cemetery's monuments and permanent residents.
Alex Thurman is the Web Resources Collection Coordinator at Columbia University Libraries, where he builds diverse web archive collections on topics including human rights, New York City, and the COVID-19 pandemic. Living near Green-Wood, he began exploring the Cemetery during the pandemic and has since become a regular visitor and member.
$9 / $4 for members. A Zoom link will be in your confirmation email upon registration.
This conversation is part of our series of virtual programs about the history of Green-Wood and its permanent residents, Zooming in on History.
Not a Member?
Click here for all of our membership levels and information.
Already a Member?
Click the gray tickets button to activate the Eventbrite pop-up, then click Enter promo code. Type in your ID number to access your discounted and/or free tickets.
Questions?
Don't know your Member ID number? Not sure which ticket or membership type to order? Call 718-210-3080 or email contactus@green-wood.com with any questions.