Experimental Fused Glass for Ambrotypes
August 13, 2022
,
10:00am
–
4:00pm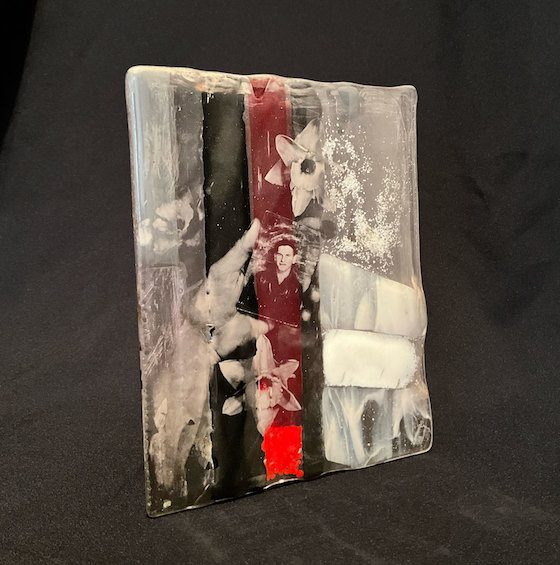 Presented by UrbanGlass
In this class, we will learn to create experimental imagery on glass using kiln forming techniques and the wet plate collodion (ambrotype) process. The first three days of the course will be held at UrbanGlass and led by Dorie Guthrie. While at UrbanGlass, we will learn kiln-forming and cold-working techniques to make glass plates with color, texture, distortion and embedded imagery. We'll learn to cut and arrange flat glass, layer imagery, load kilns, run an annealing schedule, grind glass, and more. The second portion of the course will be held at Green-wood Cemetery and led by Rowan Renee. At Green-Wood, we will use our glass creations as substrates for the ambrotype process. We will learn how to prepare glass for the wet plate collodion process, plus all the chemistry needed to coat, sensitize, shoot, and develop glass plates. We will shoot on the grounds of Green-Wood Cemetery, using large-format cameras and portable darkboxes. We will focus on natural lighting and discuss DIY methods for modifying large format cameras or film holders to accommodate unusual, or dimensional substrates.
Click here to buy tickets via the UrbanGlass website (class is five sessions).
This is an in-person class taking place on-site at UrbanGlass. Health and safety guidelines will be emailed to you upon registration. Our top priority is keeping our community safe. At UrbanGlass, masks are still required for all ages 2 and older (we recommend a KN95 or KF94 mask). Temperature checks continue at the security desk when entering through the Rockwell entrance. We ask that if you were recently directly exposed to COVID-19 and are awaiting test results that you do not come to class, and we will work with you to find another class placement or refund you the class fee. Current policies are subject to change based on additional information, including the city's new alert levels page.