Earth Day Walk
April 22, 2021
,
1:00pm
–
2:15pm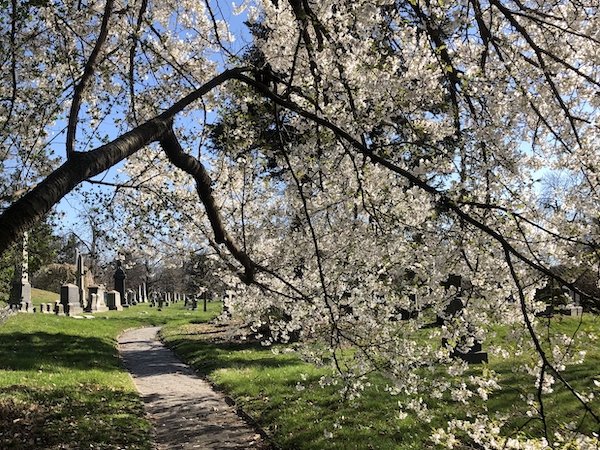 Celebrate Earth Day at Green-Wood with an afternoon walking tour led by Sara Evans, Green-Wood's manager of horticulture operations, and learn about the life cycles of some of the tree species that are tracked in the Cemetery's Phenology Project. Never heard of phenology? It's the study of the annual life cycle events of all plant and animal species that are usually marked by the changing of the seasons. Tracking these events can not only help us understand the impact the changing climate has on plants and wildlife, but may also help us to more effectively predict future environmental responses to climate change. In just over an hour, you will strengthen your observational and identification skills by learning the visible parts of each species, get familiar with the visual cues of their lifecycles, and learn how you can contribute to the project!
Tickets are pay-as-you-wish, though we recommend $10-$15 per person.
With your support, Green-Wood is able to offer free and low-cost programs throughout the year.
Please note that tickets are limited to one per transaction due to capacity and must be reserved in advance. Tickets are non-refundable and cannot be rescheduled.
Mandatory Safety Protocols
– Attendees must wear a face covering at all times and maintain at least a 6-foot distance from those not in their group.
– The tour guide will be using a voice amplifier to ensure all social-distancing protocols are adhered to.
– The walk is over hilly and uneven terrain, comfortable footwear is encouraged.
– Follow ALL instructions and guidance from Cemetery staff and ambassadors.
– Travel Safely: Green-Wood recommends following all safety precautions while traveling to and from the Cemetery, whether by foot, mass transit, or driving. If taking mass transit, please check the MTA's guidelines.
– Feeling Sick? Stay home if you are feeling sick or running a temperature. Please use good judgement if you have recently been exposed to someone with COVID-19. For more information about COVID-19, please check the CDC website.
Green-Wood reserves the right to deny entry to any visitor who refuses to comply with the safety guidelines.
If you observe a situation or behavior that does not reflect these protocols, please advise an ambassador or other staff member immediately. With everyone's cooperation this will be a memorable and safe unique experience.