(SOLD OUT) David Hertzberg: The Rose Elf (Dress Rehearsal Preview)
June 4, 2018, 7:30pm

–

10:00pm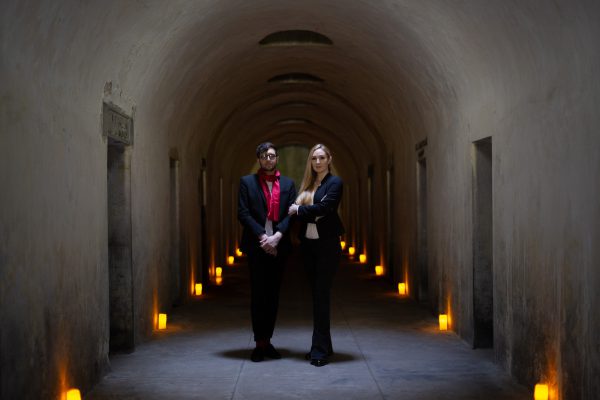 Select another Angel's Share event (Concerts in the Catacombs) in the summer series.
You may join the waitlist for the Rose Elf dress rehearsal below.
Make sure you never miss out on tickets again! Green-Wood members get access to tickets weeks before the general public. Join today.
** PLEASE NOTE THAT THIS IS A DRESS REHEARSAL PREVIEW PERFORMANCE, NOT A FULL PERFORMANCE – WE MAY STILL BE WORKING OUT TECHNICAL ISSUES, WITH OCCASIONAL PAUSES **
**ALSO NOTE THAT THIS PERFORMANCE WILL BE FILMED FOR A NEWS SEGMENT, AND FOR ARCHIVAL PURPOSES **
The Angel's Share kicks off with the World Premiere of The Rose Elf, a chamber opera by composer David Hertzberg, directed by the visionary R. B. Schlather and starring award-winning mezzo-soprano Samantha Hankey. Hertzberg just won the Music Critics Association of North America's "Best New Opera Award" for his last work, The Wake World (based on famed occultist Aleister Crowley), and in The Rose Elf he tells the tale of two lovers torn apart by a senseless act of violence; and of a strange and sensuous being, at once near and distant, who witnesses this tragedy and is transformed.
Directed by R.B. Schlather
The Singers: Samantha Hankey, The Elf; Alisa Jordheim, The Girl/Luna; Kyle Bielfield, The Beloved/Horus; Andrew Bogard, The Brother
The Orchestra: Teddy Poll, conductor; Zhenwei Li, clarinet; Katherine Jordan, horn; Bradley Loudis, percussion; Euntaek Kim, piano; Shannon Lee, violin; Abigail Fayette, violin; Sung Jin Lee, viola; John-Henry Crawford, cello; Sam Casseday, bass
The Angel's Share, a new series of opera and chamber music concerts, takes place in Green-Wood's Catacombs. One of the oldest structures in the 478-acre National Historic Landmark Cemetery, the Catacombs were built in the 1850s and are normally closed to the public. The series takes its name from the distiller's term for whiskey that evaporates while maturing in the barrel, thus going to the angels.
Each performance includes a pre-concert reception at sunset overlooking New York harbor and the Manhattan skyline.
$75 for members of Green-Wood and BHS / $80 for non-members
PLEASE NOTE: Ticketholders must be 21 years or older.
Click here for our inclement weather policy.
Not a Member?
New or renewing members are entitled to one free tour ticket a year! This could be a free ride: Click here for all of our membership levels and information. Free tickets must be arranged by phone. Please call (718)210-3080 to redeem.
Already a Member?
Click the "Enter promotional code here (members, use your ID#)" link in the bottom right corner of the ticket box and enter your ID number to apply your ticket discount. Please note that the Senior, Individual and Student membership levels are limited to only one Member Ticket per event (for additional tickets, please purchase at the regular price).
Questions?
Don't know your Member ID number? Not sure which ticket or membership type to order? Call 718-210-3080 or email contactus@green-wood.com with any questions.