Brooklyn and the Civil War
September 15, 2018, 10:00am

–

12:00pm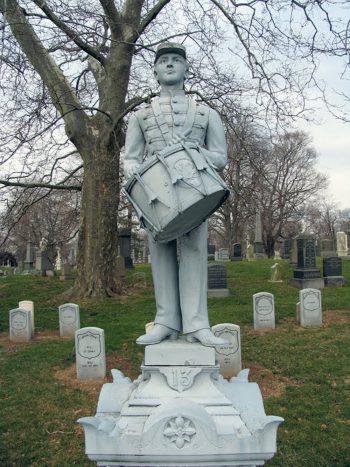 During the Civil War, Brooklyn was the third largest city in the Union, and more than 30,000 of its residents enlisted as soldiers and sailors. Join Green-Wood Historian Jeff Richman and writer Matthew Dellinger as they share the stories of Brooklynites who took up arms: Clarence D. MacKenzie, the 12 year-old drummer boy who became the first casualty of the Civil War from Kings County; Colonel Edward Fowler who led the 14th Brooklyn Infantry at Gettysburg; Brooklyn native "The Gallant Samuel Sims," who died at the Battle of the Crater in Petersburg, Virginia; and many others. The tour will also explore the crucial role of women on the home front, namely those who organized The Brooklyn Sanitary Fair of 1864, which raised funds for clothing and medical supplies for the troops.
$20 for members of Green-Wood and BHS / $25 for non-members
Green-Wood trolley tours are fully accessible and ADA compliant. In order to accommodate a wheelchair or other mobility device on the trolley, advance arrangements must be made. Please call (718) 210-3080, ext. 1. Please note that portions of the tour take place outside the trolley and may require exiting the vehicle on multiple occasions. Please contact the Historic Fund for more information.
Check-in will take place by the Gothic Arch at our Main Entrance at 5th Avenue and 25th Street. Trolley tours are run rain or shine, with the exception of dangerous conditions as determined by Green-Wood. Click here for our inclement weather policy.